Coprophagia, or eschatophagia, as the ingestion of excrement both from themselves and from other animals is called, is one of the most repulsive disorders that usually results in the owners of a dog.
But, in addition to the unpleasantness of this behavior, it can have negative consequences for the dog's health. Below we will explain what are the factors behind this behavior and how we can solve it.
You may also like: How to eliminate intestinal parasites in dogs
Index of contents
1

What is coprophagy?

2

Which dogs eat their feces?

3

Why does coprophagy occur?

4

Medical reasons to explain coprophagy

5

Why is coprophagy dangerous?

6

How is the origin of coprophagy diagnosed?

7

Coprophagia Treatment

8

Are there additives that prevent coprophagy?
What is coprophagy?
With the name of coprophagy we refer to the habit of ingesting excrement. It is important to note that it becomes a habit, since once the dog begins to eat stools, it is difficult to eradicate this behavior. Furthermore, it should be noted that a punctual intake is not a cause for concern.
If we observe that the dog is going to eat some excrement we must clearly say "no" and prevent it. Getting her attention is only effective at the moment. After a while the animal would not relate its behavior to our quarrel. These occasional intakes are frequent in dogs.
The problem exists when they become routine or, more precisely, necessity. Dogs can eat their own feces or opt for those of other animals. A large part of them seem to show a preference for the stools of cats and, also for wallowing, of those of cattle, without forgetting those of humans.
Which dogs eat their feces?
It cannot be said that there is a profile of a coprophagous dog, since in any specimen we will be able to observe this behavior. Both puppies and adults, regularly or on time, can ingest feces.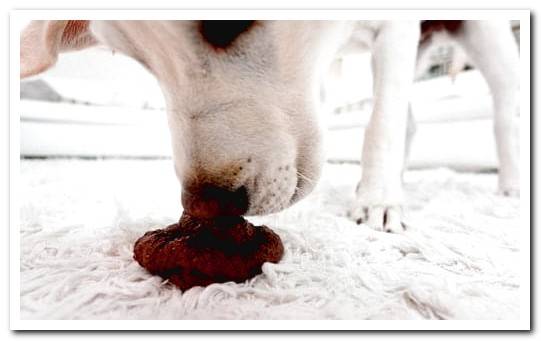 Why does coprophagy occur?
The truth is that in relation to coprophagy different theories have been generated. There is a popular belief that the dog ingests feces when your nutrition is poor. But this hypothesis does not hold, since it is not at all strange to see perfectly fed dogs resort to the consumption of stools.
Other theories, on the other hand, aim to explain the phenomenon as a taste preference. Simply, the dog, as a puppy, eats a feces under any circumstances, likes it and incorporates it into its menu. They also highlight hypotheses such as the following, which focus on psychological aspects:
Boredom.
Frustration.
Confinement, especially if it occurs in very small rooms such as a carrier, a cage or a house.
Medical reasons to explain coprophagy
In a small percentage of cases it seems that it is possible to identify a medical cause that could explain coprophagia. For example, dogs that suffer malabsorption syndrome They will develop a huge appetite because they cannot get all the nutrients they need.
Because of this they will eat absolutely everything they find, including feces. Dogs diagnosed with Cushing's syndrome, diabetes, hyperthyroidism or intestinal parasites also constitute a risk group when it comes to coprophagy. All of them present changes in appetite or nutritional problems.
Finally, dogs that are being treated with corticosteroids due to different pathologies are also among the specimens that are more likely to ingest feces.
Why is coprophagy dangerous?
Coprophagy is a tendency to avoid and not just because it is unpleasant for us. Ingesting bowel movements can lead the dog to contract digestive parasites. In addition, some droppings, if consumed in large quantities, are capable of causing adverse reactions such as vomiting and diarrhea of ​​considerable intensity.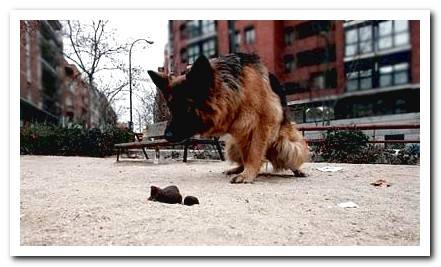 How is the origin of coprophagy diagnosed?
Coprophagia may involve physical factors, such as the diseases we have mentioned, or psychological, basically derived from stress. Therefore, to eliminate this behavior, the first and foremost thing is to identify the cause that may be causing it. For this we must go to the vet.
In the clinic this professional will ask us about the dog's living conditions to try to find out if there is any handling problem. In addition, it will ask us about other symptoms that we may have noticed, such as an increase in appetite, thirst or urination, diarrhea, etc..
With an analysis and a stool study, the vet can rule out the presence of pathologies, which is the first thing we should look for. If the dog is healthy, coprophagy can only have a psychological origin. This type of cases may exceed the veterinaryn's competences, leading us to a ethologist or a canine educator.
Coprophagia Treatment
If the analyzes carried out indicate that the dog has a disease, the veterinaryn will prescribe the appropriate drugs and measures to stop it. The prognosis will depend on each pathology. Although they can compromise the dog's health, dealing with medicines is often easier for owners than reducing stress.
When it is concluded that the problem resides in some psychological factor, the full involvement of the dog's caretakers will be necessary, since it will be necessary to change habits and living conditions, which is not always easy. The recommended measures so that the coprophagy remits are the following:
If the animal defecates at home both indoors and in gardens, it is important that we eliminate the feces as soon as possible to avoid temptations.
When cats also live in the house, their litter boxes must be completely inaccessible to the dog.
Offer an enriched environment to the dog, that is, with enough stimuli to combat boredom and frustration.
Although the dog lives in an outdoor space and has many meters, it is necessary that he can go for a walk, at least twice, being more advisable an average of three walks a day.
In addition, if the dog spends considerable time alone, we should encourage encounters with fellow humans. He needs us to share hours of games, attention and even rest with him.
Are ther
e additives that prevent coprophagy?
There is a belief that it is possible to prevent the dog from ingesting its own feces, since they are the ones we can act on, if we add some products to the food as additives that make the feces acquire a bad taste and odor.
The truth is science has not shown its effectiveness, which does not mean that in some dogs it does not work, perhaps due to the placebo effect. Paying attention to him at mealtime, even just to add the additive, can make the dog feel comforted, improving the problem. Some of the products used are these:
Meat tenderizers.
Tropical pineapple.
Some enzymes.
B vitamins.
Glutamate.
Sauerkraut.
Canned pumpkin.