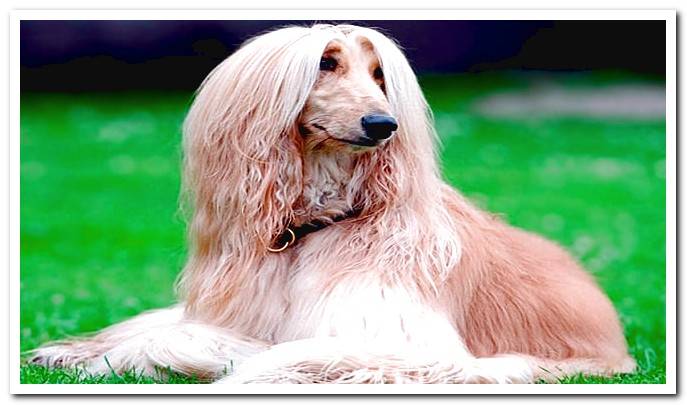 One of the most elegant dogs and that has a greater number of prizes in beauty contests is the well-known Lebrel or Afghan Greyhound, although you will be surprised to know that in its origins it was a sheepdog.
It was also used as a hunting dog due to its high running speed, although nowadays it is more of a companion dog since it adapts perfectly to family environments.
From Dogsis we want to show you what are its main qualities and what care you need to stay healthy and beautiful, we will also give you some advice about your education.
Index of contents
1

Afghan Greyhound Physical Characteristics

2

Greyhound behavior and character

3

What care does an Afghan Greyhound breed dog need?

3.0.1

Afghan Greyhound Health

3.0.2

Recommended diet

3.0.3

How to take care of the Afghan Greyhound's hair

4

Tips for training the Afghan Greyhound
Afghan Greyhound Physical Characteristics
We are talking about a large breed of dog, which reaches seventy centimeters in height at the withers and even reaches thirty kilos in weight. In general, the Afghan Greyhound is slim and athletic, always in shape.
As can be seen in the photos of the Afghan Greyhound, one of its main virtues is its long and soft coat of hair, which has awarded it a large number of prizes in beauty contests.
Its body is thin and elongated, symmetrical with the size of its long and thin legs. Its tail is not excessively large, its thin thickness tends to stay upright. Its neck is long and its head is fine with a long snout.
Large, always drooping ears covered in a large amount of long and sometimes wavy hair, giving it a delicate and stately appearance.
The Afghan Greyhound's coat color can be white, black, ivory, or brindle tones. Always long, fine and very silky, enviable without a doubt.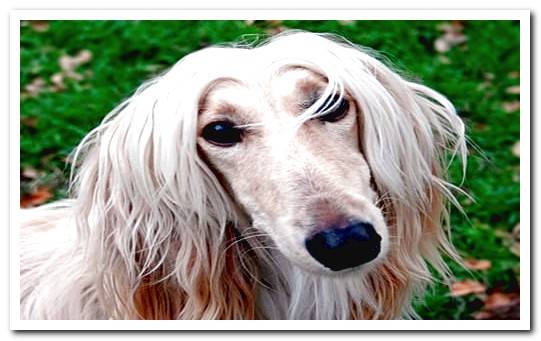 Greyhound behavior and character
The Afghan Greyhound has a very social and happy character, funny and even a bit of a jester when playing with its owner. It adapts very well to family environments with young children since it is also calm and very intelligent.
The Lebrel's behavior is exemplary, he knows how to respect the rules and he knows the limits to behave like a good obedient dog. With strangers he can show you a little reserved, cautious until he gains confidence.
Except in situations where it receives a bad education, this breed has a very social and happy character so we will not have problems of coexistence. It adapts perfectly to life indoors or outdoors, although it prefers to be in contact with the family.
What care does an Afghan Greyhound breed dog need?
The Greyhound does not require great care since it is a calm and familiar dog, although it will be necessary to give it a couple of large walks a day so that it runs and releases its excess energy.
He loves to run, so we recommend going to environments where you can be loose (dog park, field, mountain …) and you can enjoy freedom.
It is a very social dog, so it will face playing with other dogs and meeting many people, although we must be careful if we live in the mountains because as a good hunting dog, it will try to chase any hare or rabbit that crosses its path.
Afghan Greyhound Health
It is not a dog that presents great health problems at the genetic level, however due to its understanding it is possible that it develops hip or elbow dysplasia therefore it is highly recommended to use chondroprotective treatments regularly.
For the rest it will be enough to keep your vaccinations up to date and to avoid contracting parasites so that you are healthy and strong. Since it has a large coat of hair, we recommend using chewable preventives against parasites (fleas and ticks, intestinal parasites).
Recommended diet
This breed is not very friendly to pre-made foods, so we must choose the most natural diet possible, being the recommended natural food based on meat known as BARF.
If it is not possible to feed it with fresh products, we should choose a feed that does not contain chemical ingredients, as they will not sit well with it.
How to take care of the Afghan Greyhound's hair
It goes without saying that this breed of dog stands out for its incredible hair, which will need to be counted several times throughout the year to prevent it from overgrowing. Although we should not cut it much in winter, since it does not like the cold.
To keep your hair smooth and soft, it should be brushed three to four times a week. If we can do it every day, then even better. This will keep it clean and knot-free.
If we want it to have an extra level of shine, we must feed it with a feed rich in fish oil that contains Omega acids. Or add salmon oil to your diet, which provides many benefits to hair and skin.
To keep it clean, we must bathe it at least once a month with a specific dog soap that contains conditioner. This way your hair will look amazing.
Tips for training the Afghan Greyhound
We recommend starting with the socialization of the Afghan Hound as a puppy, as this way he will learn to respect other animals and acquire a very calm and social character. It will be enough to take him to play with other dogs on a daily basis, or whenever possible, take walks in the areas close to home, meet and greet other humans, etc …
Educating an Afghan Greyhound is relatively simple because it is a very intelligent dog, applying the positive dog training technique we will get it to learn all the basic and complex orders quickly.
Just remember that before starting the education classes you should take a great walk so that it releases its energy so that it can later focus on learning what you want to teach it.
If possible, always start by going over the basic orders how to sit down, come here, lie down or sit still. And don't forget to reward him every time he gets it right, or he'll show pride and something annoying.
If you liked the article and found it useful, help us keep the web going! Give "Like" or Share it on social networks 🙂 Thank you!