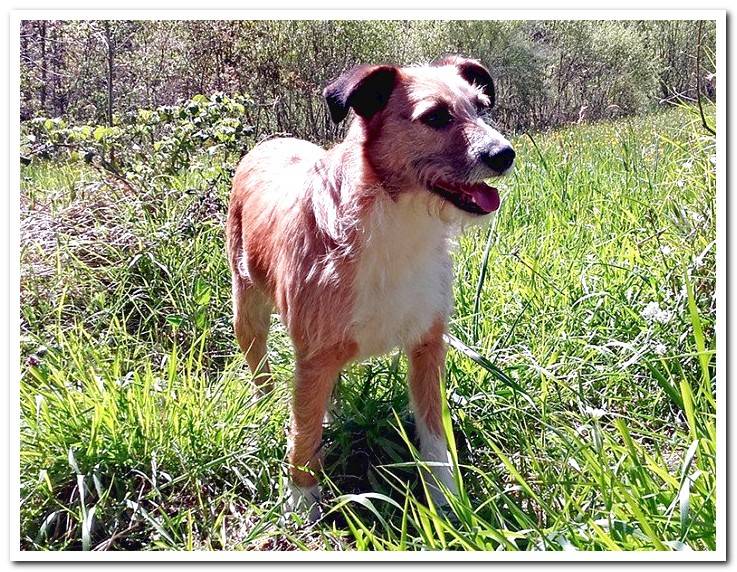 This cute little dog you see in the photo is called Caracas. He was born in August 2013 and weighs around 18 kilos. So it is medium in size.
His hair is brown, black and white (dark brown), hard hair. It is sterilized.
Recommended for: People with experience and, better, farm with other dogs of good character. Not suitable for inexperienced people or houses with chickens.
Hobbies:

Chasing wheels of moving cars.
History
Caracas was born on the street. Son of an abandoned hunting bitch, he was picked up with a month of life after a neighborhood complaint. Poorly nourished, full of fleas and scabies, he needed treatment before he could be put up for adoption (currently healthy).
Character
It is a calm dog, very shy and introverted. You won't be touched unless you earn their trust. Children are closer. He gets along great with other dogs. It has no problems with cats but it does have chickens. It is not aggressive, if it gets scared it runs away, it does not attack.
Care
He is not used to being on a leash or living in a flat or as a single dog. So need an experienced adopter or with a farm where, it would be ideal, you can live with other dogs. Outside of his collection, he has never been sick. Her hair does not need special care.
Contact
If you cannot host or adopt, please share Caracas among your social networks. This way it will be more widely available and with your help we will find a home for it.
Thank you