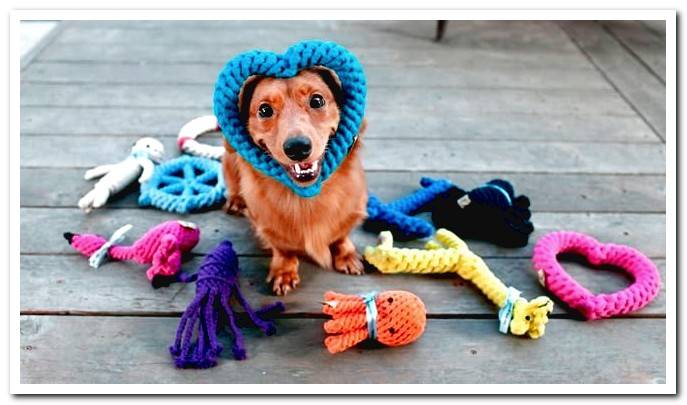 We all know the energy of our dogs, capable of sleeping for hours or being awake and wanting to play for even more hours. So it is important to give them toys that they can interact with and entertain themselves with.
Selecting the best dog toys is not always an easy task, there are a large number of models, sizes and different materials. Choosing an inappropriate toy can not only harm your development, but also your health.
Some toys are made of toxic materials, so we should avoid them completely. Like toys that stimulate aggressiveness. For this reason, from Dogsis we are going to explain which are the most suitable toys for your dog and how to use them.
Index of contents
1

What type of toy does my dog ​​need?

1.1

Special toys for puppies

1.2

Toys for small and large dogs

2

How to make homemade dog toys

3

Toys that we should avoid for our dog
What type of toy does my dog ​​need?
This is the key question that we should all ask ourselves, no matter what type of toy we like best for him. Each dog needs a different type of toy based on its age, size, and breed.
There are some very energetic dogs that need search toys to expend energy, while others are lazier and just need an entertainment toy. Puppies by contrast need more cognitive and above all, soft toys, so that they do not damage their fragile baby teeth.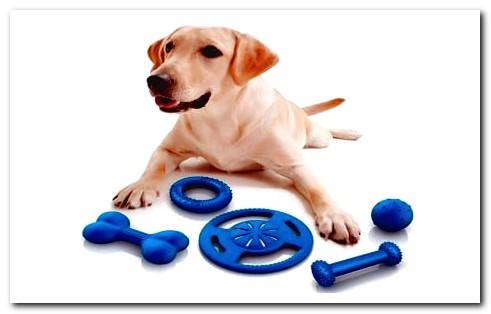 If your dog is large he will need large toys to prevent him from accidentally swallowing and choking or causing digestive problems. If your dog is small, he will need smaller toys suitable for a smaller denture.
Therefore, each type of dog needs different toys. It is our responsibility to choose them correctly so that you not only enjoy them, but so that they are not dangerous for him or for others.
Special toys for puppies
Puppies need cognitive toys that are made of soft but tough materials like latex. We can give our puppy a cloth or rope toy, but it will end up fraying and could choke.
What puppies like best is to bite, because to the teething period And since they are discovering the world, biting things is usually one of their passions. A good latex teether in the shape of a bone, plate or animal can be a great idea to entertain yourself.
We can also use latex balls, with or without relief, so that you get used to playing with them and running to find them when they roll.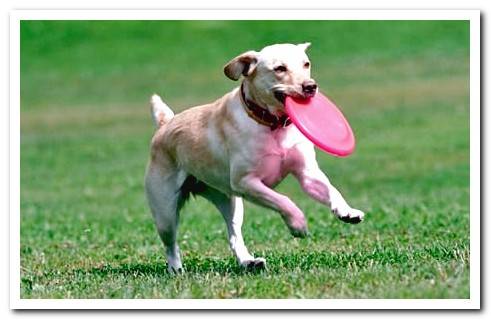 Toys for small and large dogs
Adult dogs have different needs than puppies, although they also like to nibble on things, they also love to play more actively with toys.
The more active dogs will really enjoy a ball or a frisbee, the typical flying dish. By constantly going to look for it they will waste energy and they will also feel happy to find it and bring it back to its owner.
It is important to teach them to drop the toy when they bring it in so that we can throw it back to them. In this way, in addition to having fun, they learn obedience. The material from which the toys are made is also very important.
Adult dogs have stronger teeth and a more energetic bite, so we should look for toys made of rubber or vinyl, very resistant materials and capable of being bitten (they do not give off toxins).
Less active dogs that do not like to run as much, can entertain themselves with a rope-type (but rubber) handle or even a rope-type one, as long as we take care that they do not break it and eat the threads.
For both large and small dogs, the Kong is also an ideal toy for entertaining. It is a toy made with a very resistant material, which has a hole where we can introduce food or treats for dogs.
Our dogs will have a great time nibbling the Kong in search of their treats, they will spend long entertaining moments. Intelligence games, which require the dog to press a part of the toy for a prize to come out, are also highly recommended.
How to make homemade dog toys
The problem with toys made from high-quality materials is that despite being very durable, they are not cheap. If our budget is a bit limited and we want to make a cheap and homemade toy for our dog, we will only need some old clothes.
An old shirt is more than enough to make a fantastic toy, we simply have to tie as many knots as possible, until it looks like a kind of ball.
Our dog will have a great time nibbling on it and trying to undo the knots. However, we must always be vigilant so that it does not break the fabric and swallow it, since it could choke.
We can do the same with old jeans or an old sweater, previously removing all zippers and metal materials to avoid damaging the teeth.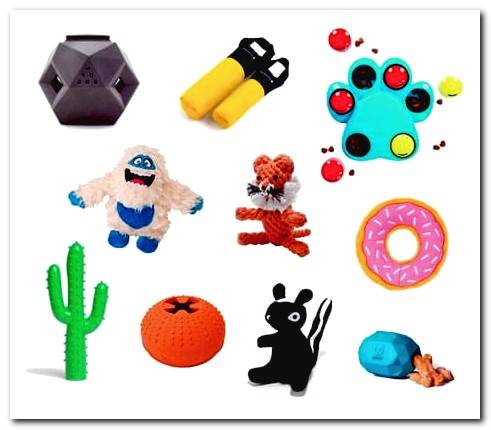 Toys that we should avoid for our dog
There are a large number of highly inadvisable toys for a dog, as they could cause it to develop inadvisable habits or even harm its health.
The toys that make sound when they are nibbled, like the classic rubber duckies when pressed that emit a kind of beep, we must avoid them completely.
If a dog bites and the toy "squeals," the dog will identify it with real prey thinking it has to kill it. This will excite him a lot and he will want to play a lot with the toy, but it will also teach him not to let go of another animal if it bites him, even if it squeaks.
These types of toys excessively develop the hunting instinct and not to release the prey in the dogs. It is not recommended at all, being detrimental to your education and development. More information in: How to prevent a dog from becoming aggressive.
Toys made of poor quality plastics, not only break easily into small pieces that can end up choking our dog. But they are also made with plastics not suitable to be bitten, since they give off toxins.
These toxins can cause serious damage to our dog's health in the short and medium term, even causing their death. Investing a little in the quality of toys is synonymous with investing in the quality of life of our dog.