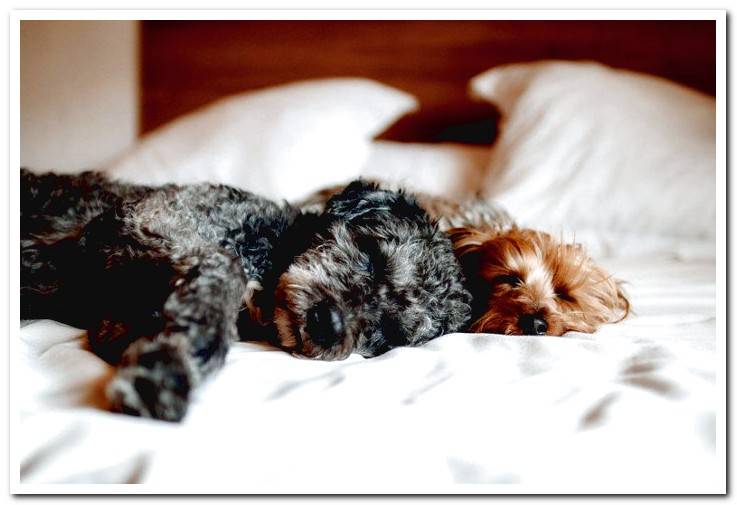 Although many will spend hours lying on our sofa or our bed, it is convenient that each dog has its bed as a space of tranquility and exclusive rest for him.
We have at our disposal a wide range of dog beds of all sizes, shapes and materials. In order not to get lost among so much variety, below we review the different options and their most outstanding characteristics.
Index of contents
1

What is the best bed for my dog?

2

Homemade bed with a cardboard box

3

Cushion beds

4

Mattress type bed

5

Cot bed

6

Blankets as a dog bed

7

Igloos

8

Furniture

9

Hammocks
What is the best bed for my dog?
First of all, to choose a bed we must be clear about what it is for and for whom. So it should be mostly comfortable, but also, adapted to the characteristics of the dog and very easy to maintain and wash.
To choose it we will take into account these tips:
Dog's age Puppies explore the environment using their mouths, making it very likely that they will end up breaking their own bed. Older dogs, meanwhile, can suffer from urinary incontinence.
The season of the year. We can not use the same fluffy bed with temperatures of zero degrees that if we exceed 25.
The comfort of the dog. They need the heat underneath, so it's not about putting blankets on them but rather insulating them well from the ground.
The size. Both the space we have and the dog itself. The bed should allow you to curl up and fully stretch.
The material. It should not only be washable but we will also look at its thickness, its touch and the ability to repel or not repel hair and stains.
Breathability. If you look, when the dog gets up after sleep we will see that the part of the bed in contact with the floor and the floor itself are wet due to perspiration. To avoid this, there are raised beds or beds with a waterproof bottom.
Indoor and outdoor. Dogs that live outdoors must also have a bed that we must place in a sheltered area protected from inclement weather. It can be placed inside houses, carriers or plastic cribs.
Homemade bed with a cardboard box
An exploring puppy can destroy his bed, just like a dog with behavioral problems. In cases like this, before thinking about buying a new bed, we can choose the classic cardboard box with our old blanket, towel or sweater, so that the newcomer feels like family.
Once we verify that the dog does not bite its bed, we can consider choosing between any of the options on the market. We will start with the simplest ones until we make sure that the new bed will not be damaged.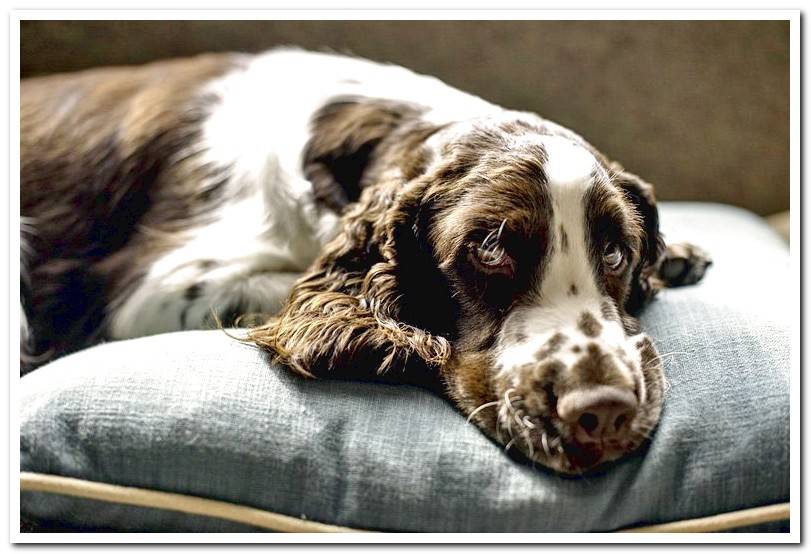 Cushion beds
They are of the most common models. They are usually made of foam and have a central part surrounded by a border that makes them more collected. The shape can be round, rectangular, or square. The thickness will vary depending on the quality of the filling. They wash in the washing machine. They are removable or in one piece.
Of all sizes, they are an inexpensive and basic option. We can have a couple of them to put them in different places or as a replacement. They are valid for all types of dogs and climates.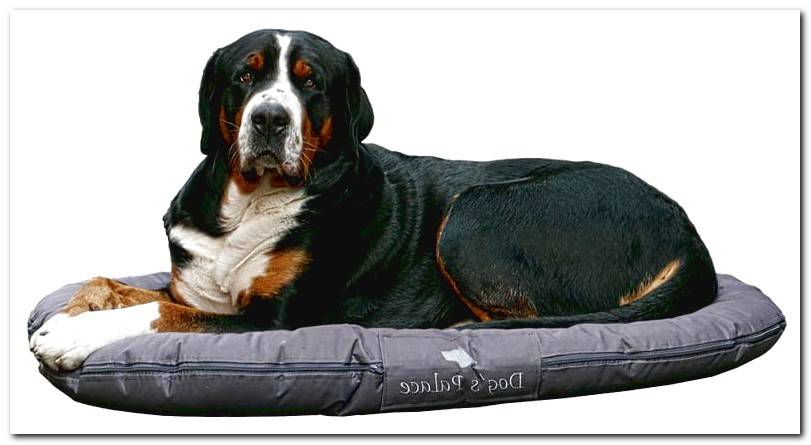 Mattress type bed
The mats are another option similar to the previous one in terms of their variety. Rectangular in shape, we find them in different sizes and thicknesses. Lacking curb, they are widely used by big dogs, as allows them to stretch comfortably.
In addition, they are usually removable, making them easy to wash in the washing machine and many models have waterproof fabric throughout the part in contact with the ground. For the warmer months, if our dog needs it, we could get a refreshing mat.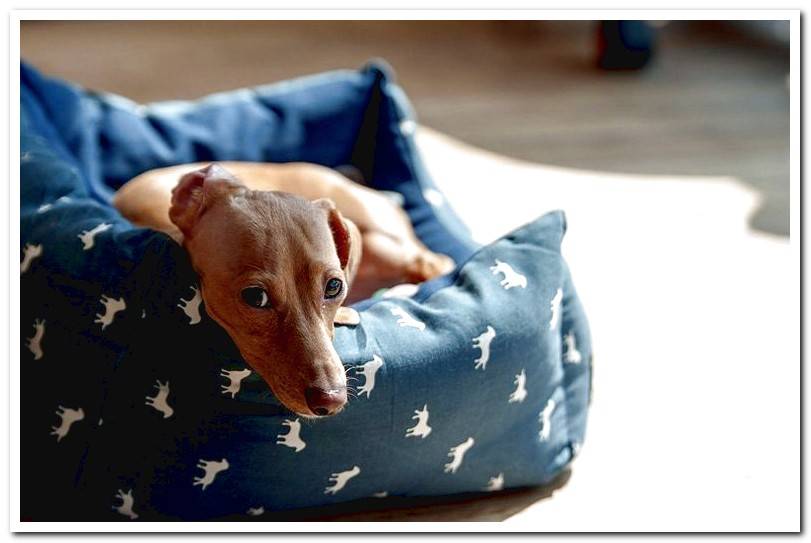 Cot bed
The classic crib consists of an oval, rounded or rectangular fabric structure with a removable cushion and the same material inside. Both the structure and the cushion are washable. It provides the possibility for the dog to sleep curled up, although many have the habit of stretching over the edges, which end up deforming.
The structure of the cribs can also be made of plastic. We will complete the bed adding the soft material that we consider. These types of beds are very useful for puppies or sick animals, since the plastic can be disinfected without problem. There are also cribs made of other materials such as wicker.
Blankets as a dog bed
Thicker blankets can serve as beds to lay directly on the floor. Instead the thin ones are used on sofas or beds so that the dog can use them but do not fill them with hair. They are another basic in homes with dogs.
We can find thermal blankets for cold weather and refreshing for the months of high temperatures. Rolling blankets are also useful, allowing us to move them comfortably. There are dog rugs and mats that can do a similar job.
Igloos
These types of beds are similar to cribs, with the difference that they are also closed at the top, like a cave. They are most used by small size dogs. Some specimens they end up sleeping on top instead of inside, so they also end up deforming. They are machine washable.
Furniture
In recent years, authentic dog furniture has been commercialized. We can buy different types of sofas and beds specially designed for them and, in addition, of all sizes.
If we choose any of these pieces of furniture, we must look at what are easily washable. The main drawback is usually its high price. They are only suitable for dogs that do not destroy.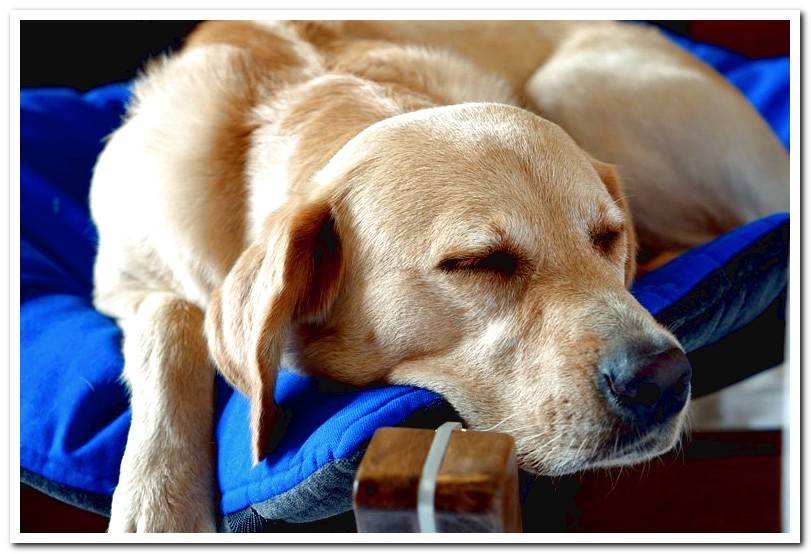 Hammocks
Formed by a leg structure on which a fabric is stretched, this type of bed fulfills the task of avoiding the dog's contact with the ground. We will find them in different sizes and the legs are usually folding. They are not highly recommended for dogs with mobility problems as it could be uncomfortable to get on and off.
And
now that you know all the types of bed available for a dog, which one will you choose for your puppies?