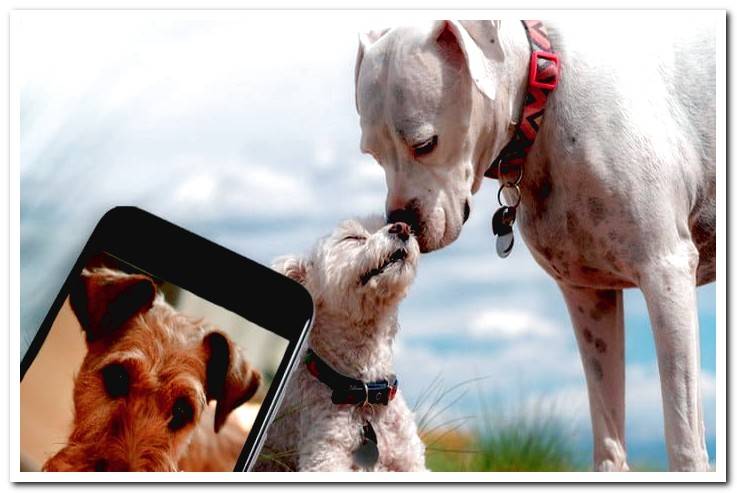 There are more and more applications focused on anything that can improve our lives and / or entertain us, and of course there is no lack of applications focused on our four-legged friends, the dogs.
We have selected the 10 most useful and fun dog apps for you to review and install the one that is the most fun or practical. Do you want to meet them? Let's see what its characteristics are.
Index of contents
1 The best applications to care for dogs

1.1 Gudog
1.2 Dogbuddy (Now Rover)

2 The best dog walk apps

2.1 Dog walk
2.2 Bulldog
2.3 Dog Vivant

3 The best social networks for pets

3.1 Rate my pet
3.2 Dogalize

4 The best dog aid apps

4.1 Animal alert
4.2 Miwuki
The best applications to care for dogs
As much as we would like, we can not always go on vacation with our dog or spend all the time it deserves. These applications allow you to go on a more peaceful trip and leave the care of your dog in the best hands. Further you can find people to spend the day with or take them for a walk. Discover these applications and so you can both enjoy the holidays even if you are separated.
Gudog
It is one of the most popular platforms that Brings together handlers, dog walkers and owners. You will find the perfect house for your dog when you have to travel and cannot take it with you. Look at the opinions, the photos and meet before with the caretaker so that your dog knows him. You can also find caregivers and walkers for a few hours. Available for Android and iOS.
Dogbuddy (Now Rover)
It is a platform very similar to Gudog, you will find people who walk your dog, feed him or take him home for a few days. The caregiver profiles are very complete, with a photo, approximate location and comments from previous experiences. Available for Android and iOS.
Dogbuddy APP – Rover on Google Play
The best dog walk apps
There are applications that will help you keep your dog in shape, that will accompany you on the walk and in its training, guiding you step by step so that your dog progresses and trains properly.

Dog walk
It is an application that keep track of walks with your dog. You will create the route on the map and will control the distance, the kilometers and you will even be able to mark where your dog stops to relieve himself. It also allows you to share the tour with more people with photos included of the ride. Available free for Android and for iOS.
Dog Walk APP on Google Play

Bulldog
This application allows you to train your dog easily and very effectively. It offers you exercises by levels from the most basic like sitting to more complex exercises such as jumping to catch a frisbee. You can also watch training videos and follow the steps. A complete and very useful application for your dog to be fit, healthy and with energy. It is available for free for iOS and Android.
Dog Vivant
This application provides you with a very detailed map of all the places where your dog is as welcome as you are. Find shops, restaurants, supermarkets and many more places to not leave your dog out and take it for a walk everywhere.
You can search for places by zones or by categories. It is a perfect application to travel with your dog or to rediscover your own city. Available for Android and iOS.
Dog Vivant APP on Google Play
If you love taking photos of your dogs, sharing them and meeting other owners, these applications will delight you. Create an exclusive account for your dog where you can exchange information, tips, photos and news.

Rate my pet
A social network, similar to Instragram where pets are the protagonists. Take and upload your photos. You can vote for the photos you like the most, interact with other users, chat and make friends. It is only available for Android.
Rate my pet APP on Google Play

Dogalize
An application where you can create an account for your dog and connect with other owners, go for a walk, help each other and exchange information and anecdotes. It also has notices if a dog has been lost or if there are dogs for adoption in the area. It allows you to see related businesses, such as veterinaryns or educators. A very complete and useful social network for day to day with your dog. Available for Android and iOS.
Dogalize APP on Google Play
The best dog aid apps
These apps allow us all to lend a hand to dogs that are at risk, are being mistreated, or are up for adoption. It doesn't cost anything to have them on hand and you never know when you're going to need them.
Animal alert
The Animal Justice and Defense Observatory has developed this application that allows reporting animal abuse. It is an anonymous complaint to which you can add photos or videos as evidence. The legal team studies them and takes the pertinent legal actions. At the moment, it is only available for Android. It is expected to have it also for iOS soon.

Miwuki
Is an adoption application, a communication, dissemination and financing channel between protectors and public organizations interested in adopting not only dogs, but also all kinds of domestic animals. You will also find a lot of interesting information about pets at home, types of dogs, and practical tips for living with your pet. Only available for Android.
Miwuki APP on Google Play
Do you know any APP about dogs that you consider very interesting and you want us to add to this article? Send us a e-mail and we will review it.