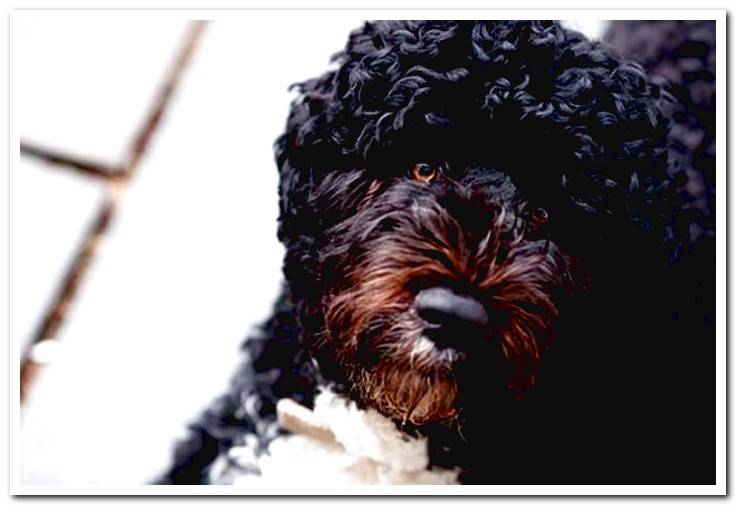 Close cousin of the Spanish water dog, the cào de água as they call it in the neighboring country, is a formidable swimmer and watchdog. Enthusiastic, hard-working and intelligent, he will provide you with an entertaining company.
His robust complexion and thick, wavy hair are his most outstanding hallmarks. They are muscular and agile dogs that need a lot of exercise every day. Do you want to know more details?
Index of contents
1

Characteristics of the Portuguese water dog

2

How is the character of the Portuguese water dog?

3

Recommended care for the breed

4

Common health problems in a Portuguese water dog

5

Race history and fun facts
Characteristics of the Portuguese water dog
This faithful and happy companion boasts a lush and resistant coat that together with his characteristic "lion cut", so popular in his country of origin, star in the clearest identifying signs on these specimens.
It is a medium-sized dog, with thin ears and medium implantation, always attached to the head. Its eyes are medium in size, rounded and dark in color (black or brown). Its tail is wide at the base and tapers as it progresses.
| | |
| --- | --- |
| | Height between cm in males and between cm in females |
| | Weight between 16 and 27 kg males and females |
| | Long, dense, wavy and very resistant hair. There are two varieties, the one with long curly hair and the one with short and frizzy hair. With colors white, black brown or a combination of them |
| | Curious, affective and intelligent character |
| | Prone to heart disease and dysplasia |
| | Estimated life expectancy between 12 and 15 years |
How is the character of the Portuguese water dog?
These dogs are extremely active, curious and intelligent. Qualities all of them that facilitate their training. Of course, if you do not alternate the game with the work in those training sessions, it is very likely that you will end up bored.
It is necessary that you maintain authority at all times because these specimens are given, due to their lively temperament, to want to be noticed as leaders and could become a capricious and imposing pet.
SThey adapt perfectly to cold, heat and small spaces. They get along well with other pets, children and adults. However, screaming and punishing do not go well. It's a breed ideal for people with an active lifestyle As you will be claiming your daily dose of walks and play. Socialize it from a young age to mitigate your shyness towards strangers.
Recommended care for the breed
Did you know that these dogs do not change their hair? As they do not lose hair, they are suitable for allergic or asthmatic people. Despite this, you must brush it or, at least, untangle it by removing the lanilla deposited next to its skin with your fingertips. Bathe it with a specific shampoo once a month and hydrate your coat, especially if you have long hair, so that your skin does not dry out.
Her leafy cloak is susceptible to harboring fleas and ticks. Therefore, don't forget to deworm it frequently. The brushing teeth It should be weekly to prevent gingivitis caused by tartar buildup.
No less important is physical and mental stimulation. Physical activity must be daily and abundant, as well as the approach of challenges that force you to think.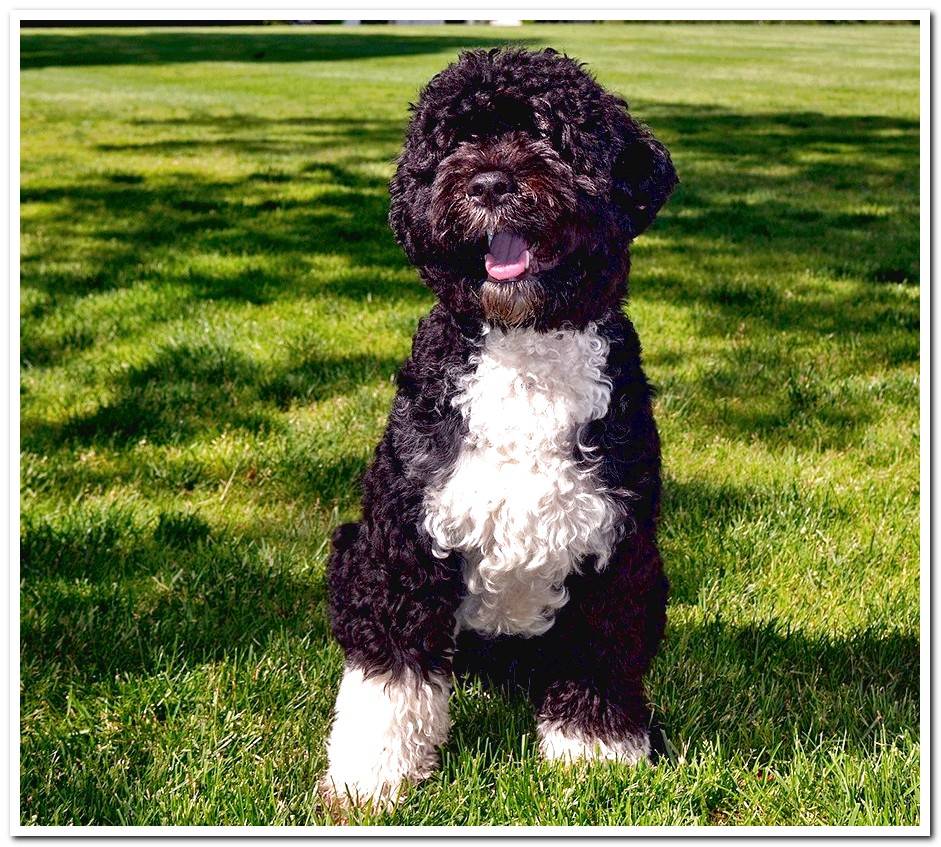 Common health problems in a Portuguese water dog
In the diseases section, this breed shows a certain predisposition to hip dysplasia, cardiomyopathy, to progressive retinal atrophy, alopecia and GM gangliosidosis that leads to the deterioration of your nervous system.
Maintaining a balanced diet, daily exercise with the profusion that it claims, adequate hygiene and the necessary veterinary controls with their vaccines administered, their physical and mental health should not be diminished, since they are dogs that, generally in good health. They are not known congenital diseases associated with their race.
Race history and fun facts
Portuguese water dogs were common in the crew of Portuguese fishing boats. In addition to assisting sailors in fishing by launching themselves into the sea to capture the prey, they were employed to send messages between vessels, to keep the assets they housed safe, and even to prevent shipwrecks. His excellent view avoided collisions.
His traceability was also exploited on land as a rabbit retriever. However, technological progress in fisheries meant that they were relegated to the background and in 1960 they almost died out. In the late 1970s they became very popular in the United States. and in 1984 the breed was recognized by the Amercian Kennel Club.
Did you know that former President Barak Obama's family pets, Bo and Sunny, belonged to this intrepid breed? Fact that has re-launched its popularity, currently constituting a highly recommended breed as a companion pet or as a guard dog. At his side we can assure you that you will not get bored and that you will be in the best hands.