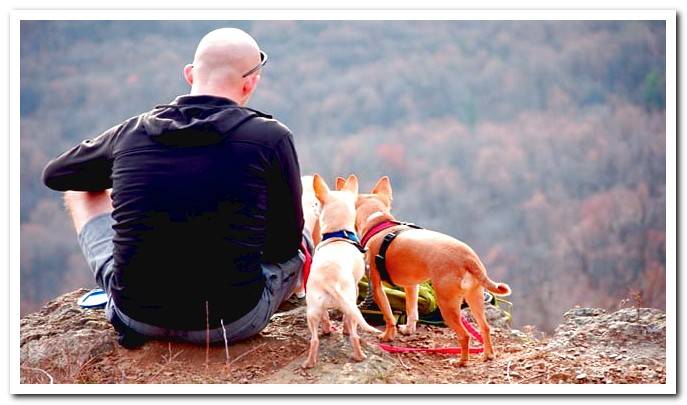 Dogs love to walk in the bush, full of new smells and areas they did not know. The same happens to us humans. Who can resist a beautiful excursion through nature?
Hiking with our dog can be an excellent idea, since we will both enjoy the day in total freedom. But … should we take some precautions? The answer is yes, without a doubt.
Index of contents
1

Plan the route with our dog

1.1

Not all races are ready

2

What should i bring

2.1

First aid kit

2.2

Food and water

2.3

Oilskin

2.4

Veterinary primer

3

Can I release my dog ​​while hiking?

4

Tips for hiking with dogs
Plan the route with our dog
It is important to know a little about the area where we plan to make a route, since if it is rocky or with dangerous areas such as cliffs, it is better that our dog does not accompany us.
We must choose a route where both our dog and we can walk quietly through some dirt or grass trail that does not pose a danger to our dog's paws.
The distance to be traveled and the duration of the route is also key, since we must ensure that our dog can do it without posing a problem for his health. Also do not forget to look at the weather, if it is not raining or excessively hot, perfect.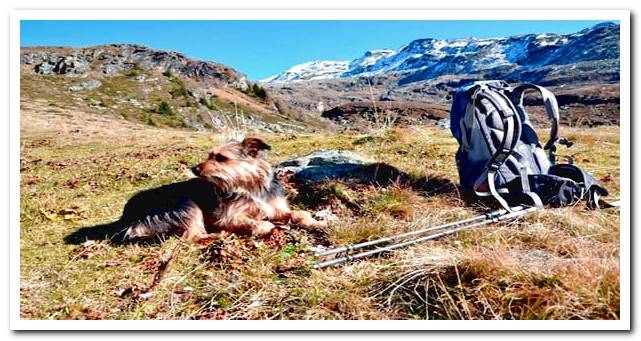 Not all races are ready
Remember that not all dogs are suitable for hiking, dogs with brachycephalic syndrome (those that breathe deeply and hoarse) do not tolerate too much exercise.
Small dogs are not suitable for very long routes as are older dogs (from 8 years old), which they should also not be subjected to intense physical exercise.
Large dogs or dogs with a lot of hair can suffer from heat stroke if we force them to travel long distances and the day is hot. It is very important to know our dog well and to know if it will be comfortable.
They will follow us to the end of the world, even if it is a health problem or even death, so think about it and think about whether it is recommended that your dog accompany you or not during the journey.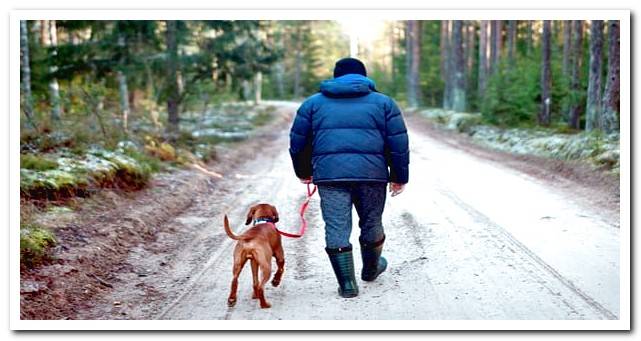 What should i bring
Apart from what we need for ourselves, we must bring what our dog needs. Especially if an emergency occurs such as a storm, excess heat or injury.
First aid kit
You do not need to take your grandmother's kit … but it is advisable to wear a bandage in case our dog suffers an injury and also some medication with corticosteroids, in case any snake bites you or some other bichejo.
Food and water
Remember that we must NEVER allow our dog to do excess exercise before or after eating, because we could cause gastric torsion.
We should bring a little food (preferably wet, canned or paté) and plenty of water, so you can drink when you need it.
Oilskin
If the weather is unstable and there is any possibility that a storm will arise, it is important to bring a raincoat for our dog. So that we can protect it from rain and / or cold.
Veterinary primer
It is essential to carry all the documentation of our dog, in case an emergency arises or in case a forest ranger requests it.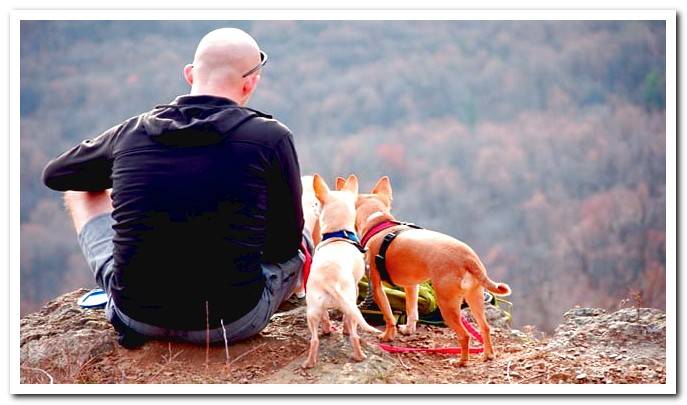 Can I release my dog ​​while hiking?
It depends a lot on the country where you live and how your dog is. In Spain for example it is very relative, in communities like Navarra if you can take the dog loose in rural areas (roads / routes) as long as it is less than five meters from you.
However, if it's a dog listed as PPP, you can't let it go. So it is best to wear a good extendable strap that allows you to get comfortable and get away a little, but tied.
The best way to know if you can drop it or not is to call the police in your area and simply consult them.
Tips for hiking with dogs
There are many other things that you should take into account before starting your route with your dog, some of them very important:
If your dog is an escapist It can be lost during hiking, so nothing better than a GPS locator to avoid this problem (it is small and attached to your necklace).
If your dog is not very social , do not release it even if you can. There are more people hiking, many of them with the family (young children) and nobody wants an accident …
If our dog is sick We should not carry it with us under any circumstances. We do not want it to get worse, much less in the middle of the mountains, lost from civilization.
Protects your dog very well against parasites how ticks and fleas, nature is full of ticks that can end up on your dog. A good dewormer (repellent) is totally mandatory.
You can also wear booties for dogs, in case it is accidentally cut on a paw. Being prepared is the best solution to any unforeseen event.
If it gets dark During hiking, you can carry a dog light (it is placed on the collar) so you can know where it is at all times.
If the dog shows symptoms of fatigue , illness or other problems … Turn around and go home. It is better to lose a day on the route than our best friend, do not force him to make the route if he cannot.