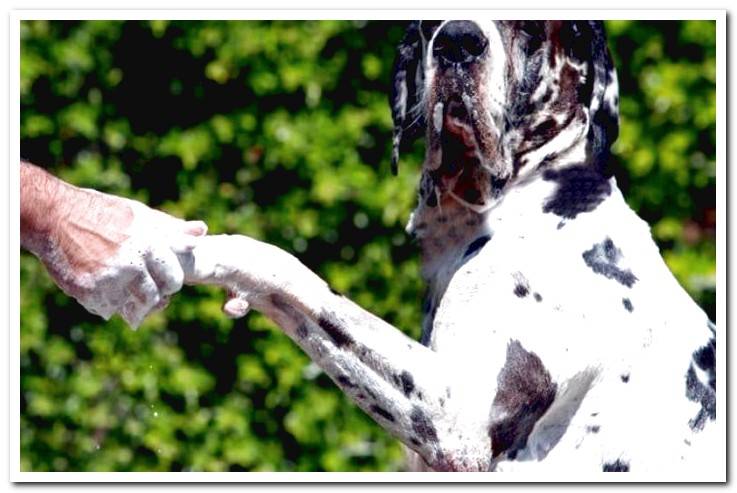 The current pandemic situation due to the new SARS-CoV-2 coronavirus, in addition to causing profound changes in the habits of human populations, has also affected dogs living in homes.
The limits in the walks, but, above all, the possibility that they may become infected and may transmit the virus, center the doubts of the caregivers in these times. We clear them below.
Index of contents
1

Can dogs transmit the coronavirus?

2

Are dogs a source of coronavirus infection?

3

Dog hygiene during the pandemic

4

Disinfect the dog's house and utensils

5

Recommendations if I have coronavirus
No. Currently available scientific data rules out that dogs can transmit COVID-19 disease to humans or other animals. It is true that some cases of dogs have been reported to have tested positive for SARS-CoV-2.
These are animals exposed to the virus by living with sick people, so it is assumed that transmission has occurred from humans to animals. A recently published study in which large amounts of the virus were inoculated into animals of different species has found that dogs are not very susceptible.
That is, based on current scientific evidence, dogs cannot infect us with this disease. But, on the other hand, it is known that the virus is capable of surviving on different surfaces, which raises the question of whether it is possible to contract the disease by touching a contaminated dog.
The virus is believed to be spread when droplets emitted by people contact with the mouth, nose or eyes of another person. But these droplets can remain suspended in the air for a while or deposit on certain surfaces. Depending on the material, its infective capacity will more or less resist.
If a person infected with SARS-CoV-2 carries the virus in their hands and touches the dog or talks, sneezes, or coughs too close to it, the virus may have spread to their hair or skin. Contact with the virus would also occur during walks. Although these have been reduced and interaction is prohibited.
Even so, contact with contaminated surfaces could occur, especially with legs, tail, muzzle or ears. To minimize the spread of the virus, preventive measures have been established based on personal hygiene, utensils, spaces and the reduction of personal and social contact. But how do we remove the virus from dogs?
Dog hygiene during the pandemic
Although the new coronavirus could be deposited on the dog's hair or skin, the truth is that it is not very likely that it can remain infective on them so that it becomes contagious to people.
As they are living and porous tissues, it is difficult to resist and in sufficient quantity. But, if we want to take extreme precautions, we can clean our dog upon arrival home after the walk following these tips:
Clean the legs, tail and muzzle, as they are the parts of the body that can contact elements from outside. If the ears are hanging and touch the ground, they can also be washed.
Use wipes specially formulated for dogs.
You can also use baby ones as long as they do not contain alcohol or perfume.
It is possible to use specific dry shampoo for dogs.
Another option is to wash the designated areas with water and the shampoo that the dog usually uses. For this you can put it in the bathtub or pass a towel wet with water and shampoo.
Make sure to rinse it well to avoid soap residue that can irritate your skin.
Also, dry it well, as moisture can lead to dermatological problems.
Of course, never use bleach or any other abrasive or non-specially made products for dogs.
Take care that no cleanser contacts the mucosa to prevent irritation.
Disinfect the dog's house and utensils
In addition to sanitizing our dog, it is important to wash its accessories, since the SARS-CoV-2 lives for hours on different surfaces such as plastic or stainless steel. The feeders and the drinkers can be scrubbed with water and the soap that we use for the china. Better in the dishwasher and with hot water.
The beds can be cleaned in a washing machine. The ideal would be with water at 60-90 ºC. The straps and collars, depending on the material, can be machine washed, hand washed or wipe or wipe dampened with soap and water or disinfectant. 24-hour sun exposure is another preventive measure. We can also disinfect the floor.
First with our usual cleaner and then giving a second pass with a disinfectant. Follow the manufacturer's directions and do not mix products. Disinfectants to choose from include bleach, hydrogen peroxide, 60-70% ethanol or chlorhexidine.. Distilled white vinegar or tea tree oil is not effective.
If you have tested positive for SARS-CoV-2, it is recommended that you leave your dog in the care of another person. But, if it is not possible, to interact with it you must take the same precautions that are recommended with respect to other people.
That is, frequent hand washing with soap and water, do not touch your mouth, nose or eyes and wear surgical masks or FFP2 and latex or nitrile gloves. Cleaning the dog and its accessories must be done as indicated in the previous sections.