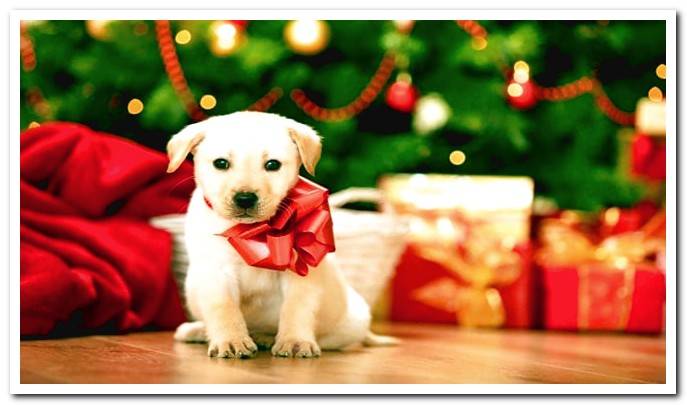 There are many people who think about giving a dog for Christmas to their partner or their children, without taking into account what it really means. We must not forget that dogs are not toys, nor objects, they are living beings.
Giving our loved ones a puppy or adult dog is not always such a good idea how we think. As it becomes an enormous responsibility that we all must assume.
From Dogsis we want to guide you a little before you make this important decision, so that later your care and needs do not catch you by surprise.
You will also be interested in: The best dog breeds to live with children
Index of contents
1

Is it good to give a puppy to a young child?

2

Should I give a dog to someone else?

3

Important tips on adopting – buying a dog
Is it good to give a puppy to a young child?
If we look at the positive side, how it will learn to have responsibilities and take care of an animal, we will very likely think that giving a dog to a child is a great idea.
However it is not, children are children and they only think about playing and having fun, something completely normal. They do not have to be responsible for a dog as they are not mature enough to be.
So if you are thinking of giving a dog to your children, you must be clear that the dog is and always will be your responsibility. Taking him out for a daily walk, taking care of his health, paying for his vaccinations and worrying about his diet are and will be your obligations.
In addition, you must ensure the safety of the dog and your children. So important is properly educate a puppy how to properly educate your children so that they respect him and do not prank him.
Think about it very well before, because a dog lives on average between twelve and eighteen years, it is a long-term responsibility that cannot be avoided. And if you finally decide, remember that some breeds are not recommended for family settings with young children.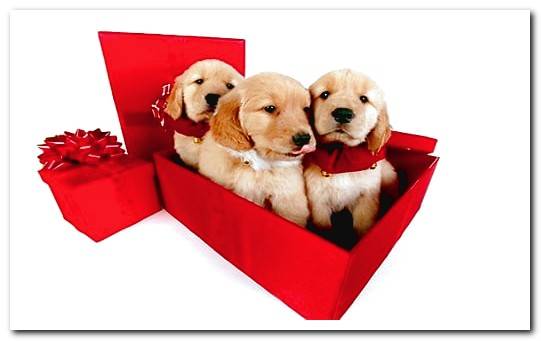 Should I give a dog to someone else?
Leaving small children aside, we can think of giving a puppy or an adult puppy to a loved one, such as our romantic partner or our parents or siblings.
You should know that it is not a good idea either, although you know that it will make you very excited, giving a dog and giving a huge responsibility. In addition, the decision to choose a dog is something very personal, each person has different tastes.
Not all races are for all people, there are small, huge, quiet, very active…. there are even little recommended for living in hot or too cold climates, even the size of the floor matters.
Do you want to give a dog to a loved one? Go with him to choose one in a shelter or kennel (they are free and need a home) and let that person choose your puppy.
Important tips on adopting – buying a dog
It is very sad but a large percentage of dogs given away at Christmas spend their second Christmas in a kennel or animal shelter because they have been abandoned.
That's how hard life is for those puppies, that if they have a family they are in an undesirable situation for any living being.
So it is very important that you take all these things into account before making this important decision, because a dog is part of the family, not a toy.
A dog lives many years in which he will need you to take him for a walk several times a day and dedicate time and love, games and dedication.
A dog needs to be educated and socialized, it is not a toy that already comes with everything learned.
A dog supposes a very important annual economic expense, its feeding, its mandatory dog ​​vaccinations And your vet checkups are not free.
A dog is not an animal to be left alone at home all day or tied to a chain, it is part of the family and needs to be with the family.
Most dog attacks on people occur to children, because children see things in the drawings on TV that they later think will be funny to do with their dogs…. It is YOUR responsibility to educate the dog and your children.
Do not buy a dog, you will be promoting indiscriminate breeding for profit. Adopt a dog, in the protectors and kennels there are dogs of all ages (puppies, medium, adults) and of all breeds, cross sizes…. they will only ask you to pay for their vaccines and microchip (something totally reasonable, since they are mandatory).