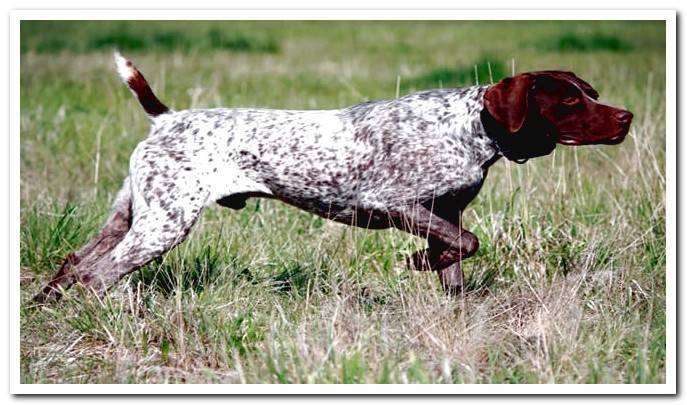 Among all the hunting dogs, the German Shorthaired Pointer is one of the most common for its great versatility and its magnificent physique, which allows it to endure hard days of physical activity.
There are two variants of the German Shorthaired Pointer, the Shorthaired Pointer and the Hard-Haired Pointer. Both races share character, but differ slightly in physique, and more specifically in their hair.
The German Shorthaired Pointer is also an ideal dog for living with families or children, as long as it lives in a home with a large garden that allows it to carry out daily physical exercise.
You may also like: The Weimaraner
Index of contents
1

How is the character of the German Shorthaired Pointer?

2

Characteristics of the German Shorthaired Pointer

3

How to educate a German Shorthaired Pointer

4

Necessary care for a German Shorthaired Pointer dog
How is the character of the German Shorthaired Pointer?
As a good hunting dog, the German Shorthaired Pointer is very intelligent and can easily learn everything he needs to carry out his task.
This does not mean that it is an aggressive dog, but quite the opposite; the German Shorthaired Pointer is a dog that, with the correct education, can be a very affectionate companion and that it will not be difficult for him to socialize with humans or other animals.
German Shorthaired Pointer generally maintains a stable character, but this can become slightly irascible and troublesome if it cannot relieve tension with physical exercise. For this reason, we recommend that you plan your dog's physical activity, interspersing running sessions (of at least 45 minutes) with some visits to dog parks where there are attractions specifically designed for their fun.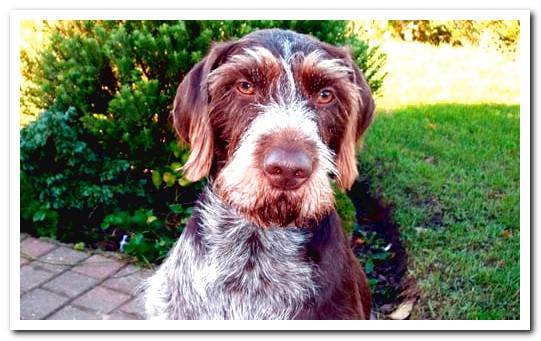 Characteristics of the German Shorthaired Pointer
It is a large dog that can exceed 30 kg in weight and 60 cm in height in the case of males (26 kg and 57 cm on average for females). It is a very strong breed, capable of withstanding long hours of physical effort thanks to its robust muscles, something that is especially appreciated in its front legs.
His entire body is proportionate, and at first glance his broad and strong back and his elongated head stand out. Digging deeper into his head, his eyes are medium and dark brown, contrasting with his large snout. The ears are also large and always hanging.
The German Shorthaired Pointer's hair is generally brown (usually a shade similar to chocolate) or black (pure or roan), but there are also other colors such as gray, a mixture between the previous ones or with small white spots.
The type of coat depends on the variety of German Shorthaired Pointer. In the case of the short-haired, as its name suggests, it has very short hair attached to its body, while the hard-haired has long and coarser hair. More information in: Types of hair and necessary care.
How to educate a German Shorthaired Pointer
The education of the German shorthaired pointer should begin when he is a puppy and should focus in one way or another depending on the lifestyle he will have in the future.
The most common thing is to train the German shorthaired pointer like a hunting dog, something quite easy to achieve if its hunting impulses are correctly channeled during the first months of life.
In order to teach the German Shorthaired Pointer to be a good hunter, it is advisable to start by teaching him the most basic hunting tasks, especially collecting and tracking. If possible, it is best for our furry companion to see directly how another dog does this function, and gradually learn by copying what his "mentor dog" does.
But not all German Bracos have to be hunters. If we prefer that ours be a calmer dog, that can live with the family and be the ideal playmate, what we have to do is propose a method of positive training, in which we reward our friend every time he does something right. An example of this may be giving him his favorite food after learning not to try to catch animals smaller than himself.
In any case, it is important that you be patient with your dog, because, although it is a very intelligent dog, it also tends to be easily distracted, which can lengthen this process more than usual.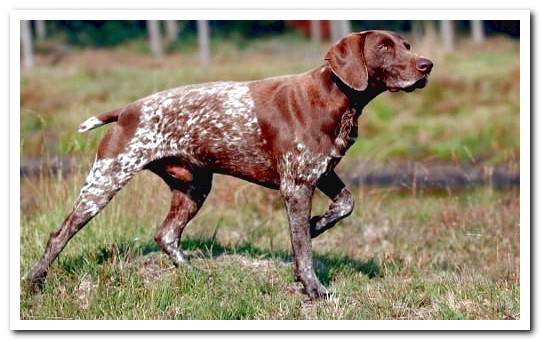 Necessary care for a German Shorthaired Pointer dog
In order for our German Shorthaired Pointer to be in top shape at all times, it is necessary for him to do at least a couple of hours of physical exercise a day, preferably accompanied by a human who takes care of him or by other dogs with which he can play.
This will help you to release tension and keep your muscles strong. The exercise can be done anywhere outdoors, not requiring a large space, so with a garden of an average-sized house it is more than enough to make our companion with legs feel at ease.
It is important to regularly take care of your coat so that it stays shiny. Ideally, you should brush every other day and bathe every time you get dirty, which will be quite often considering that you spend much of your time outdoors. Its coat tends to fall out regularly, so there is no need to be alarmed if you notice that your dog is losing fur.
It is also important not to neglect his intellectual education, being highly recommended to propose to our friend games in which he has to use his intelligence and mental ability.