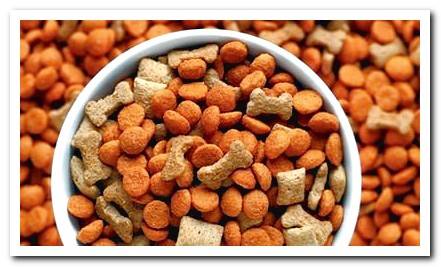 Wanting to feed our beloved dog with a high quality feed, often becomes a true obsession. This is because our love for them is such that we only want to give them the best. And since their food is in our hands, choosing a good dog food is just one more way to show them our love.
Since we already talked about how know how to identify a premium feed for dogs, this time we are going to talk about the best dog food in the rest of the world. This time we are going to focus only on foreign feed, which is available in our country as it is imported.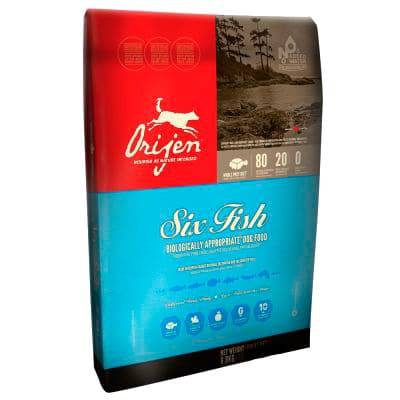 Orijen Six Fish is a product made with six different types of fish, as its own indicates if we translate it into Spanish. Made only with fresh and dehydrated fish, without adding water during the preparation before the preparation of the feed.
This means that everything is cooked in its own juice before making the "croquette", thus taking full advantage of all the nutritional properties of the fish and its flavor. They do not use cereals of any kind, but they do use very healthy fruits and vegetables.
It can also help us in dogs with allergic problems, since it does not contain any other type of animal meat. We can use Orijen Six Fish as a waste diet, to assess whether our dog's allergy comes from ingredients as common in feed as chicken or lamb.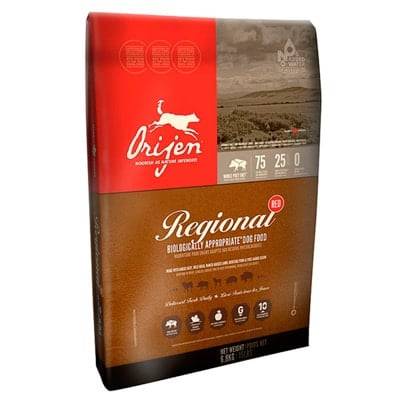 Orijen Regional Red is made with high quality meat and fish products, combining them in the same feed that offers the highest qualities of both. Undoubtedly, it is a high-end feed that offers a great diversity of ingredients in its composition, highly recommended as well.
Ideal for all types of dogs since the size of their kibble is specifically designed to be highly digestible and assimilable. Among its ingredients we can find pork, cow, wild boar, herring, salmon, bison…. It is possibly the feed with the best mix of meat ingredients on the market.
In common with the rest of the feed in the Orijen range, it shares its high content of fruit and vegetables, very healthy for our dogs due to its high biological value.
You can see all the details of these products and the rest of the gamma, among which we also highlight the varieties for puppies.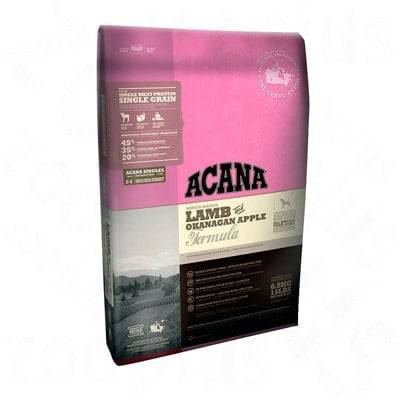 Acana Lamb and Apple is a feed designed for dogs that have digestive problems or intolerances. It contains highly digestible Lamb as the only source of animal protein, in addition to fruits and vegetables.
This brand also has many mentions and awards for its quality, for some reason it is located as one of the best feed in the world, along with the rest of the brands / companies that we name.
It is a great choice for dogs of any type, with a great biological value and free of heads (like the entire Acana range).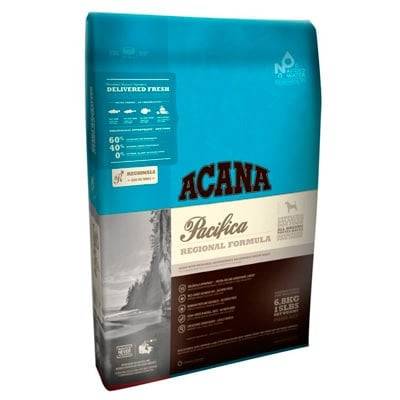 Acana Pacifica is the variety that offers fish as the only source of animal protein, in combination with very healthy fruits and vegetables for our dogs. It is a high quality feed and highly recommended for dogs that quickly get bored with their food.
Its peculiar fishy smell makes it practically irresistible, a delight for the vast majority of dogs who love fish (if you don't know if your dog likes fish, try giving him a little canned tuna preserved in oil) .
You can see all the details of these products and the comments of people who are using it, as well as the rest of the range that also has excellent quality.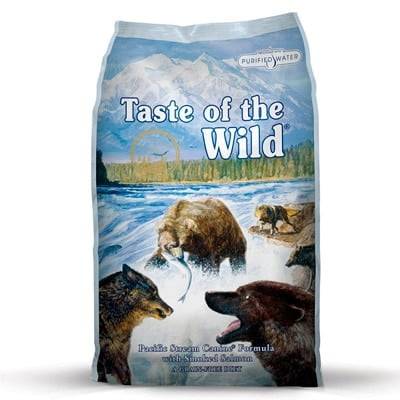 Taste of the Wild Pacific Stream is a feed made with fish as the only source of animal protein, combined with fruits and tubers to provide all the necessary ingredients for a correct diet.
This company has received, along with Orijen, the highest quality rating on highly reputable lists in the USA as Pet Food Talk. Basing its criteria on the quality of raw materials, its respect for the environment and its production.
Containing only fish as a source of animal protein, it can be used to rule out food allergies to meat products.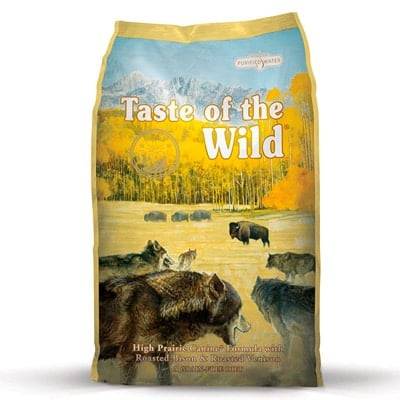 Taste of the Wild High Prairie Adult is a feed that uses Bison as the main source of protein, in combination with venison and lamb. Incorporate fruits and vegetables to provide all the necessary ingredients to our four-legged companions.
Bison can be a great choice to feed dogs that have digestive problems or intolerance to certain proteins, including IBD, as it is a novel protein. Although we must consult previously with our nutritionist veterinaryn, in case our dog requires a special diet.
Indicated for any type of dog, it will be a delight for them due to its excellent taste and smell.
You can see these products in detail and the rest of the Taste Of The Wild range that also has excellent quality.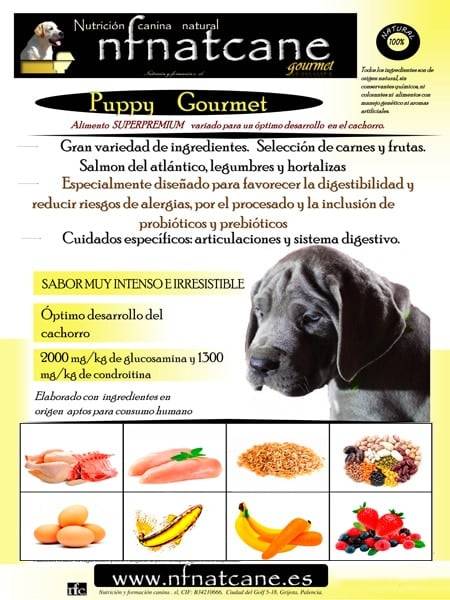 Made with hydrolyzed meats, including fish and using rice as a carbohydrate source, it can be said that the elaboration of the GOURMET Range is of practically unmatched quality.
It goes without saying that we feed our dogs with NFNatcane Gourmet, since in our opinion it complies and more than enough with the "three B" (Good, Nice and Cheap).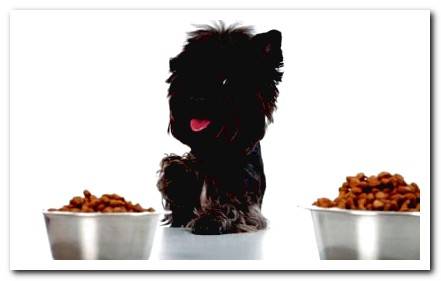 What do I think I should choose for my puppy?

Dogs do exactly the same thing with food as they do humans: neither do we all like the same food nor do we all feel equally good. That is why it is impossible to say that this or the other, are the best feed for your dog.
The best thing is that you value each feed yourself and decide which may be best for your dog, respecting its size and age (it is not recommended to give a puppy feed to an adult dog, for example). And finally, he will be the one to tell you if he likes it very much or very much;).
All the mentioned companies have quality products that will make your dog enjoy a healthier and consequently long-lived life. They are, without a doubt, highly recommended internationally prestigious companies.
Obviously there are many other international companies that also have high quality products, but these are perhaps the most outstanding.