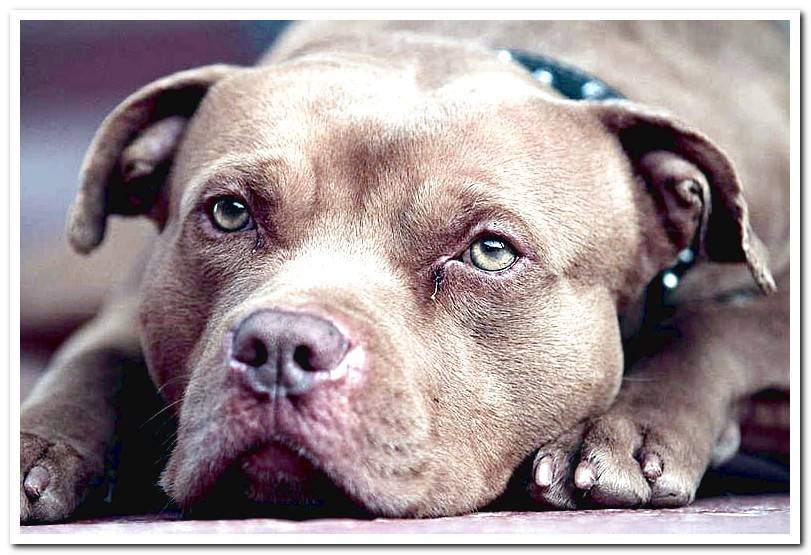 Dogs classified as potentially dangerous are not necessarily aggressive, but due to their physical characteristics they can create great damage in case of fighting with other animals or humans.
Depending on each country, the list of dangerous dogs is greater or less, so we will see what are the PPP breeds in each of the different countries, as well as the requirements to be able to adopt them.
Index of contents
1

List of potentially dangerous dog breeds (PPP) in Spain

1.0.1

Aita Inu

1.0.2

American Pitbull Terrier

1.0.3

Tosa Inu

1.0.4

Rottweiler

1.0.5

Fila Brasileiro

1.0.6

Argentine Dogo

1.0.7

American Staffordshire Terrier

1.0.8

Staffordshire Bull Terrier

2

Potentially dangerous dog breeds in Mexico

3

Potentially dangerous dog breeds in Argentina

4

What documentation and permits do I need to have a dog classified as dangerous PPP?

4.0.1

Spain:

4.0.2

Argentina:

5

What else should I know about potentially dangerous dog breeds?

6

Are there really dangerous dogs?

7

How does a normal dog become a potentially dangerous dog?

7.1

So…. Why do countries make lists of potentially dangerous dogs?
List of potentially dangerous dog breeds (PPP) in Spain
In Spain the list of Dog breeds They are considered as potentially dangerous by the BOE according to the law 50/1999 on PPP breeds.
This means that the races detailed below are listed as dangerous by the Spanish government. Implying the need to have a license and compulsory insurance to be able to adopt a copy.
Aita Inu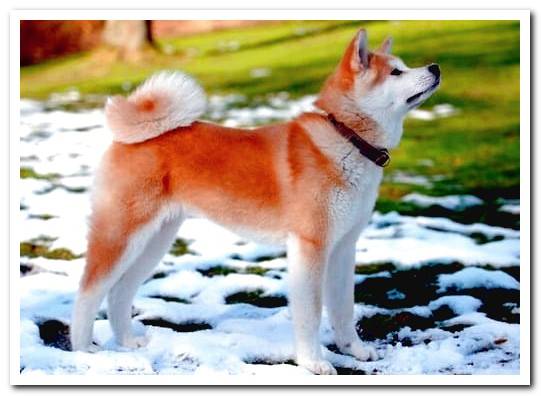 The Akita Inu It is a race originating from Japan although in the update it is spread throughout the planet. With a happy, loving and funny character, he is also a great guard dog that does not bow to any danger.
American Pitbull Terrier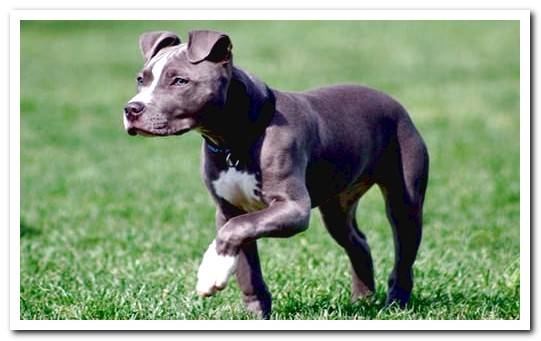 Known worldwide for the numerous cases of attacks on people and other dogs, spread and exaggeratedly over and over again by the media, the American Pitbull Terrier It is a dog with a lot of temperament and energy.
Not recommended for people without experience in the canine sector given its impulsiveness and aggressiveness, if it is not strongly educated and socialized. Within the dangerous dog guide, the APBT is possibly the most widespread breed worldwide.
Tosa Inu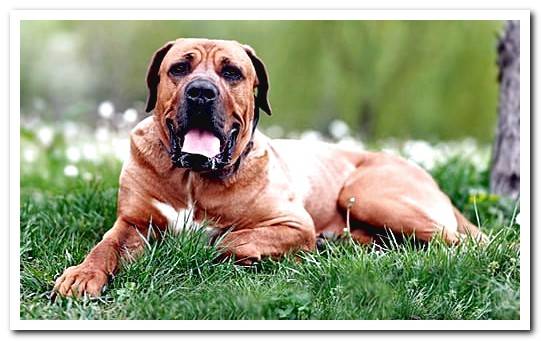 Listed as a potentially dangerous dog due to its large size and strength, the Tosa Inu is actually a fairly calm and familiar dog, loyal and with a calm temperament.
However, if he receives a bad education he can be a real danger, due to his great physical muscles and bite strength. It is also native to Japan where it is known as the Japanese Mastiff.
Rottweiler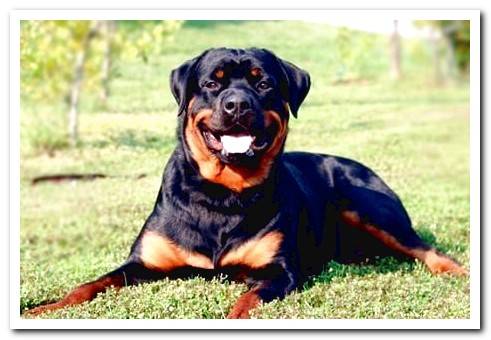 Within watchdog breeds the Rottweiler he is the champion and by far the difference. His character is very loving, loyal, and even playful with his family environment.
However, with strangers or people who may pose a danger, their character is very different. Incredibly strong and powerful breed that holds the world record for biting strength.
Fila Brasileiro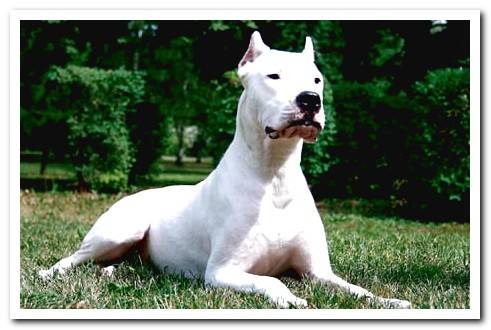 Listed as a dangerous dog for its large size and strength, actually if it is well socialized and educated the Dogo Argentino can be an extraordinary dog.
Like all the Bulldogs, loving, playful and even cuddly. However somewhat suspicious with strangers, which in combination with its protective character can be a danger if it has not been properly trained.
American Staffordshire Terrier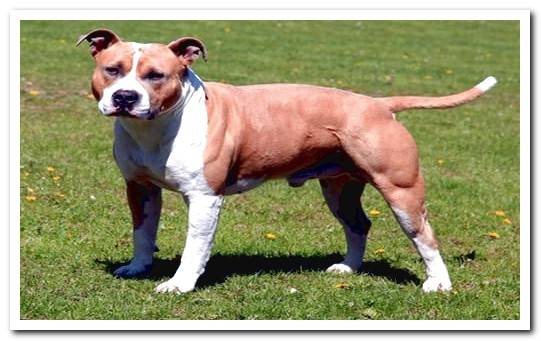 Despite having a calm and relaxed character, the American Staffordshire Terrier will always be vigilant and vigilant. It is an extremely intelligent dog that has great physical and bite strength.
Colloquially known as American Staffordshire due to a pronunciation error, it must be trained intensively to prevent it from becoming an aggressive or dangerous specimen.
Staffordshire Bull Terrier
It could be said that among all the races classified as dangerous, this is the most sociable and friendly at general levels. With a good education and socialization, the Staffordshire Bull Terrier shows little aggressiveness as it is a very self-confident dog.
If you have any doubts about the races considered as dangerous in Spain, you can consult the publication of the BOE A-2002-6016 on dangerous breeds.
Potentially dangerous dog breeds in Mexico
In Mexico, the number of breeds classified as dangerous is higher than in Spain, since there are many other breeds that, although not aggressive, have been added due to their size and strength.
Complete guide to dangerous dogs in Mexico:
Staffordshire Bull Terrier
Mallorquin Dam
Brazilian Row
Presa Canario
Bullmastiff
American Pitbull Terrier
Rottweiller
Bull terrier
Dogue de Bordeaux
Tosa Inu
Argentine Dogo
Doberman
Neapolitan mastiff
Potentially dangerous dog breeds in Argentina
If we mix the breeds classified as PPP in Spain and Mexico, we will obtain a very similar mix to the one they have in Argentina.
Argentina lists highly dangerous dogs as:
Akita Inu
American Staffordshire
Bullmastif
Bull terrier
Doberman
Argentine Dogo
Dogue de Bordeaux
Brazilian Row
Great Japanese Dog
Neapolitan mastiff
Pit bull terrier
Presa Canario
Rottweiler
Staffordshire Bull Terrier
What documentation and permits do I need to have a dog classified as dangerous PPP?
The necessary documentation and permits varies greatly depending on the country where we reside.
We are going to present the documentation that today is required in the Spanish and Argentine state.
If you are going to acquire a dangerous dog you are obliged to consult with the administration of your country previously.
Spain:
Be of age
Have no criminal record
Be physically and psychologically trained
Have a third party damage insurance of € 120,000
Register the dog in the register of dangerous animals
Always and without exception use muzzle in public places
Use a strap less than 2 meters in length and not be extensible
Never carry more than one dangerous dog per person
In private places, such as chalets or plots, they must be tied (except when the security measures required by the administration are met so that they can be loose)
More information in: How to obtain the PPP permit in Spain
Argentina:
Identify the dog by placing a chip (identification microchip).
Use strap less than one meter in length, non-extendable
Use Muzzle
Adopt security measures in the area or property where the dog resides

Do not leave the dog in common places

Report to the administration the theft, death or abandonment of the dog
What else should I know about potentially dangerous dog breeds?
You should dig deep into the breed dog you want to buy or adopt, you can see and understand the character they have and their needs, this way you can get an idea of ​​whether it is the specimen you are looking for or not.
When you know what breed of dog you are going to buy or adopt, check with the public administration of your country of residence to know the permits you need.
You must be of legal age and responsible Never buy a dog and then let someone else take care of it, it is your moral and legal responsibility.
Remember, the dangerous ones are not the dogs, they are the owners. Educate and train Correctly your dog, if it is classified as a dangerous breed, let an expert trainer advise and advise you.
The breed of a dog says nothing about it, do not obsess about buying this or the other breed…. Go to a dog shelter or kennel and adopt, there are thousands of dogs waiting for a home and they are as good or better than purebred dogs.
In many countries, crosses obtained with dogs classified as potentially dangerous Find out.
Are there really dangerous dogs?
No, dangerous dogs don't exist and never have. What does exist are irresponsible owners, any dog ​​whatever its size and strength, if it is poorly educated or trained, or if it has suffered abuse and harassment, can become a potentially dangerous dog.
When a person buys or adopts a dog, it is their obligation and responsibility train them correctly, in the same way that it is your responsibility to obtain a PPP license. Anyone who buys or adopts a dog must have a minimum of common sense, be of legal age and of course be mentally balanced.
Dogs that governments label as dangerous are only "strong" dogs. With a correct education they are not dangerous, you can see all the programs of "The dog trainer" and value it for yourselves, dangerous dogs do not exist, dangerous owners do.
Obviously if we let a minor (for example, many adults can also be included in this example) who is going through puberty or an identity stage, adopt a strong dog such as a "pit bull" … we will be making a big mistake . It takes a lot of experience in the canine field and adequate mental and emotional stability, in order to properly educate a dog. If the dog in question is one of strong understanding, we must be more mature even in all those areas.
How does a normal dog become a potentially dangerous dog?
Any dog ​​can become a dangerous dog, any dog ​​can bite and cause harm. Dogs are animals and as such, we must educate them and socialize with them correctly so that they are not aggressive (just as our parents do with us, they educate us for years so that we know how to live in society).
If we do not train a dog, perhaps nothing will happen and he will understand the laws of life or perhaps if something happens … and he will become a dangerous dog for people. Educating a dog wrongly is more serious, because we can make him believe that biting is the right thing. Many "young" and not so "young" dog owners have fun teaching their dogs to defend them, biting rivals … that's the biggest mistake a person can make.
The training of a dog can be carried out by its owner, but the training of personal defense must always and without exception be carried out by a professional trainer, especially when it comes to prey breeds such as Doberma
n or Pitbull dogs.
Another big mistake that is made is to leave a dog on a leash to protect property … that's torture. Imagine that they tie you up and leave the rest of your life there to watch something, you would go crazy, aggressive and antisocial. The same thing happens to dogs, they become aggressive and dangerous.
So…. Why do countries make lists of potentially dangerous dogs?
Countries make lists of dogs that potentially can be dangerous to humans (Potentially Dangerous Dogs = PPP). These lists only serve to catalog certain breeds of dogs that due to their morphology or potential, can be lethal if they attack a human.
The reason for preparing these lists is to compel the owners of these dog breeds to meet certain requirements that vary depending on the country where they reside. For example, liability insurance for damages to third parties, an administrative license, a test of physical and psychological capacity, etc …
Unfortunately these requirements are only required for people who own one or more dogs classified as dangerous, the correct thing would be to require these permits from all dog owners. Because to have a dog you have to be an adult, have physical and psychological capacity, have a good environment where to breed it, etc…
This could solve the huge problem of abandonment of animals that we currently suffer, since thousands of completely irresponsible people can buy or adopt an animal.
Of course the lists can vary so if you are going to buy or adopt a dog, we recommend that you first ask the administration of your country of residence if it is listed as a dangerous dog or if you need any special permission to proceed.