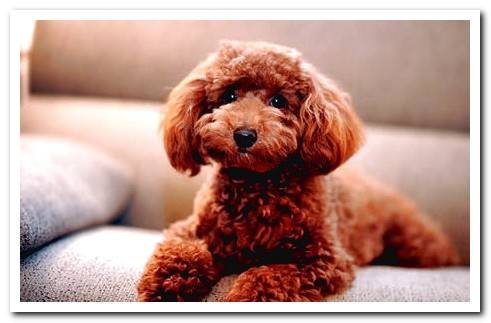 The time has finally come to adopt your puppy and besides, he is going to need a nice name to call him. The choice of name is sometimes somewhat complicated, since there are thousands of names for dogs and most of them are beautiful. The first thing we must know is if our dog is male or female, to choose the most suitable name for it.
We are going to expose some of the most used names and also some of the most original names that you can imagine. Many people already know what name they will give their little furry, but if you are one of those who still have doubts, this information is sure to be of great help to you.
Remember that once you give your puppy a name, it is advisable not to change it so that it does not get confused or go crazy … Imagine that you change the name every week !! It would be crazy. Before you even start training your dog, you must give it a name so that it knows when we are talking to it. Take your time, read all the names and write down the ones you like best on a piece of paper so you can make a selection later.
You may also like: Japanese names for dogs
Index of contents
1

Best Dog Names: Originals

2

Best Dog Names: Classics

3

Best Dog Names: Popular

4

How to correctly choose a name for my dog?

5

The best names for male dogs or female dogs
Best Dog Names: Originals

If you are one of those people who love the novelties and originalities of music or cinema, choosing a nice and original name is surely not a problem for you. But in case you are still not completely clear, perhaps these options can help you: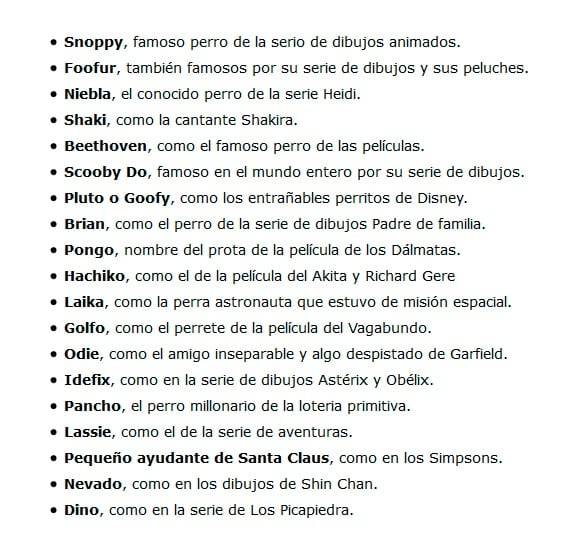 As you can see, you just have to put a little imagination to get a really beautiful and original name, especially if it is the name of some famous drawing, singer, actor or movie character. You will have the dog with the funniest name of all your friends and he will be the happiest dog everyone seeing that it is the center of attention.
Best Dog Names: Popular

According to the different surveys consulted, these are the most popular names for dogs today. Some are very well known in reality and others are new, you will see that there are even very funny ones. They are names for male dogs, female dogs (puppies) and there are even unisex names.
You can choose the name that you like the most and think about how your new four-legged companion would look. You can even ask him if he likes it as a name and see how he reacts when you use it to call him, many dogs choose their own name themselves hehe They are not listed, simply without the most popular names for dogs currently:
Duke / Duke , curious name that seems to bring nobility to both large dogs and small champions. Maybe someday I will have a Duke, also keeping me company …
Neymar , all football lovers know this great character, a very curious and original name without a doubt, for a dog.
Casper , only yogurt today does not know who this funny little ghost is that made us all laugh, a classic, original name and apparently also very popular.
Lolo I want to suppose that it is Lola's masculine … although honestly, we don't know its real origin, although it is a very cool name.
Rufus On a personal level, it seems to me a super funny name, very original and beautiful for a dog of any size. Although it seems to be only focused on male dogs …
Blah This is a more unisex name, it can be used for both a male and a female, original, funny and pretty.
Simba , without a doubt very popular lately… I am not exaggerating if I affirm that I know at least nine dogs named like that. Nice and very happy name.
Lulu I can't imagine a Saint Bernard calling himself Lulu because it makes me laugh, although it would be super original. But any medium or small breed dog is very appropriate for such a funny name.
Bonnie , name for dog that brings me memories of thief movies hahaha A very cool and original name, it is no wonder that it is popular.
Leia , incredibly popular with fans and non-fans of the "Star Wars" saga. Very original and beautiful, it must be admitted.
Popeye , a classic that seems not to lose strength. Very popular and original at the same time, ideal for large dogs or for just the opposite, also very curious for Bulldog type dogs.
Iru , a short name but very popular lately. In its original language, Euskera, it means "three".
Cloud , a beautiful and original name, very appropriate for dogs who want to have a very sweet name.
Paco , although it is a name used in humans … the truth is that it is becoming very popular also among puppies. Admittedly, it is a very funny and original name to call our puppy: Paco !!
How to correctly choose a name for my dog?
We have to admit that almost all of us have doubts when choosing a name for our new furry companion, that puppy that has just arrived in the family. Choosing your name should not be a forced or expensive task, we can take all the time we need and think about it calmly, there is no rush.
We can choose a name that identifies him based on his appearance or character, such as calling him "Gulf" if he is very naughty, "Popeye" if he is very strong or "Rufo" if he is horny … Sometimes there are names that seem to be created specifically for these special dogs.
Letting our dog choose the name is also a great option, we can find the five or six names that we like the most and ask him which one he likes best. Surely with some shows more sympathy than with the rest, so you already know how to choose 🙂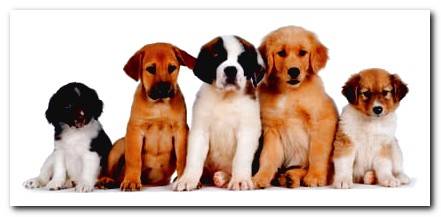 It is not a good idea (although we may believe that it is) that our young children choose a name, because it may occur to them to call it "cookie" or "socks" and they are names that may not stick much with them when they are adults. Imagine a Great dane 60 kilos and 7 years old, muscular and imposing called "Cookie" … it is rare. Obviously we can let them participate by choosing from the names that we have previously selected.
Remember that puppies grow and the name we choose must accompany them throughout their lives. We should not change the name of our dog
or we will make him a little crazy …
The best names for male dogs or female dogs

As it does not always rain to everyone's taste, perhaps you have not found the name you expected and you continue with the doubts. So we have prepared a large list of names for you to choose from among all the existing ones.
We hope that after the hundreds of names that we have offered you for both male and female dogs, you have been able to decide on a beautiful name.