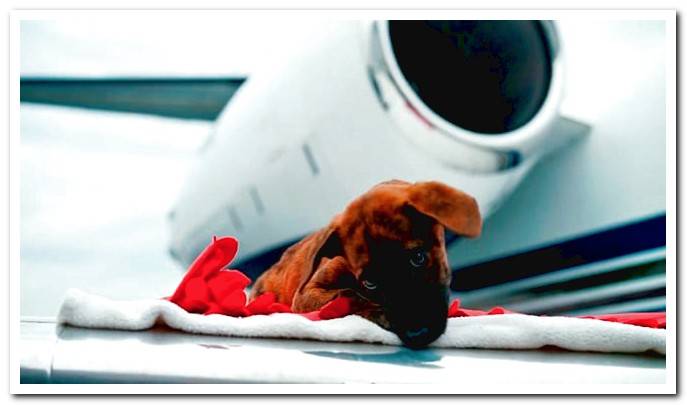 If you are thinking of taking a nice plane trip whether for pleasure or business, and you would like your dog to accompany you to your destination, we are sorry to have to tell you that it is not a good idea at all.
Traveling with a dog by plane is not only stressful and complicated for your dog, but it is also really dangerous. The vast majority of airlines do not accept dogs in their cabins except for cargo holds, and those that do accept them will give us a thousand and one hits.
Unless it is a guide dog, also known as a guide dog (help dogs for people with certain disabilities or disabilities), it is better that you look for a destination where it is not necessary to travel by plane.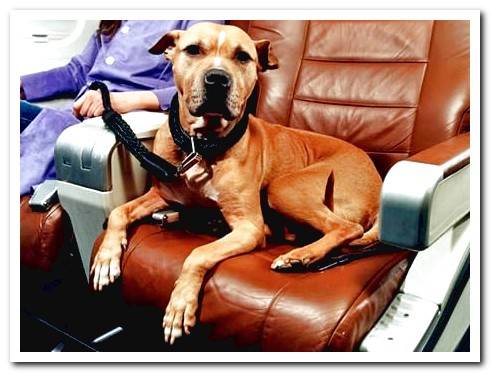 Traveling with a dog by plane: Passenger cabin or cargo hold
Keeping in mind that most airlines do not accept the transport of animals, among which we obviously include dogs, we are going to focus on those that will allow us to travel with our dog but, with conditions.
As an example, the Spanish company IBERIA does allow traveling with a dog in the passenger cabin, as long as the total weight of the dog and its cage (carrier) is less than eight kilos.
It goes without saying that the dog must go at all times and without exception inside the cage (carrier), that it must be waterproof in case the dog urinates and that the dog will not be able to disturb the rest of the passengers, that is, it must not bark or smell bad.
Under no circumstances can the dog or its cage occupy a seat unless we have paid the ticket for it, nor can it be placed in the hallway or be placed in the seats near the emergency exits.
The ideal for these cases is that we literally drug our dog, our vet can give us pills so that the dog goes to sleep and thus, does not disturb the rest of the passengers. In addition, this way you will not suffer the stress of traveling by plane, something normal for us but extremely stressful for them.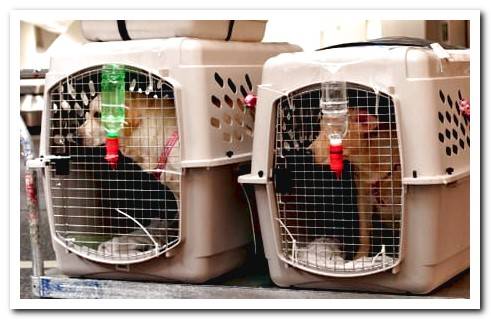 In warehouse transport it is somewhat more permissive, however, although only in terms of cage and dog size. The dog should be kept in a cage suitable for its size, well ventilated and waterproofed at the bottom to avoid leaks of urine or dog excrement.
The dog may travel in the hold, but let's not forget what a cargo hold is … a dark place, full of noise, sometimes poorly pressurized … what can be considered hell for a conscious dog. If our dog is going to travel in a warehouse, we must give him sleeping pills without exception. Our vet will give us the appropriate dose for this purpose.
Not all breeds are allowed on air travel, some dogs are more likely to have respiratory problems precisely because of pressurization, something that can kill them. Therefore, the following breeds are not accepted for transportation in cargo hold:
English bulldog
French bulldog
Pit bull
Boxer
Carlino
In summary, any breed of dog that classically has a somewhat stronger or more intense breathing due to its physical conditions, called brachycephalic.
Traveling with a dog by plane: Documentation and requirements
Even choosing an airline that allows you to travel with a dog and complying with the rules that they indicate, we will have to have the necessary documentation to transport it.
This documentation consists of a veterinary card or veterinary passport that indicates the dog's registration identification number, such as the microchip. In addition to the compulsory immunization record in order for both the country of origin and the country of destination.
And even so, having everything strictly necessary to travel with a dog by plane, we recommend that you call the airline in advance and inform them over and over of your intention to fly with a dog. since it is possible that at the last minute, they put you a thousand and one hits.
Remember how difficult it is to fly on a plane with a dog, how stressful it will be for your dog and how stressful it will be for you. In addition to the real dangers of a dog entering a hold or even a cabin, pressurization can kill them.
Our best advice is that you look for a family or kennel with whom to leave your dog while you are away. Or that you choose another means of transport such as the car, the train or the boat.