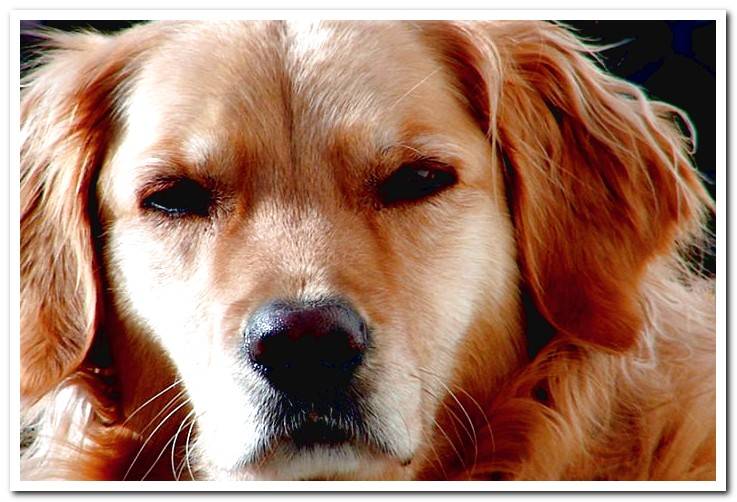 Surprising as it may seem, dogs also get angry and often do it with their own humans. They don't use words, but through the movement of their tails, their ears, and other non-verbal language methods, they can let us know their anger.
If you want the symptoms to know if a dog is angry, do not miss this fabulous article that from Dogsis we have prepared for you. Ready to know if your dog is angry? Let's go there!
Index of contents
1

Reasons why dogs get angry

2

Signs of anger in dogs

3

Can an angry dog ​​be aggressive?

4

How to take the anger out of a dog
Reasons why dogs get angry
Like humans, dogs can feel different feelings and show them, even though many times we may not be able to understand them. The reasons they get angry are very different from ours, so never rule out that your dog may be angry with you.
Here are some of the reasons dogs get angry:
Force them to do things they don't want to do.
Humiliate them through costumes or the like.
To scold them excessively.
Physically or psychologically mistreat them.
Do not let them release their energy (do not walk or exercise with them).
Ignore them.
Pay more attention to another dog or cat in the home than to them.
Use non-recommended means such as the electric collar.
Stress them.
As you can see, there are several causes that can cause good anger in your dog, even causing its behavior to change dramatically (for the worse).
Signs of anger in dogs
How do you know when a dog is angry? Is it easy to find out? If we know how to observe our dog we will know immediately when something is wrong. However, there are some clearly identifiable signs that show a dog's anger.
We will know that our dog is angry when:
Don't look us in the eye: In the same way that an angry human ignores us, dogs also do the same, go past us and not look at us.
Constantly yawn: Did you think yawning is a sign of sleep or boredom? Error. Excessive yawning is a sign of stress, anxiety, and surely anger.
His ears are retracted: If his ears are back and his head is down, his mouth is closed and his lips are very tight, it is certainly a clear sign of anger.
Licks lips and mouth often: This is normal when a dog is hungry or has just finished eating, but it is a sign of anger if done in another context.
Hidden tail and stiffness: This is another clear sign of tension and anger in a dog, be careful as it could become aggressive.
Growls and / or whines: Dogs growl when they see another dog they don't like, when we bum them playing and also how angry they are. The same thing happens if you whimper, it can be a clear sign of anger.
Expression of anger in his eyes: It is the simplest symptom to detect, because anger makes your eyes show differently, with hatred.
The key is knowing how to understand your body language. Many of these symptoms, if isolated, do not represent a sign of anger, but as a whole or if they are repeated, they can be taken as a clear symptom of anger.
Can an angry dog ​​be aggressive?
Without a doubt, yes. An angry dog ​​can show his anger simply with body language so that we understand his mood. You can also start to show destructive behavior, breaking your toys or household items. And finally, he may also be aggressive even with their own humans.
Not knowing the level of anger in our dog, it is impossible to know what his reaction will be. So the wisest thing to do is to let him relax and not disturb him while still angry. If we appreciate clear symptoms of aggressivenessWe must avoid contact with it as it could attack us.
How to take the anger out of a dog
Obviously it will be necessary to know the reasons why our dog is angry, since if we have mistreated him, it is not something that we can solve in a few hours, or even in a few days … It will take a lot of positive therapy for me to forget.
If our dog is angry because he has excess stress, there is nothing like going out for long walks, cuddling him, letting him play with other dogs, etc … All the positive energy that these actions bring, will make our dog stop being angry in no time.
If his anger is tiny, try stroking and scratching his belly a little. They generally feel great like this and forget any anger. Now that you can tell when a dog is angry, simply remedy it so it doesn't repeat itself.